I've written about today's topic before. The idea I'm about to share is really common sense. Even if you didn't read my past articles or watch my videos about this, you still know and understand it. Yet, it's worth bringing up again, as I have a new twist on it.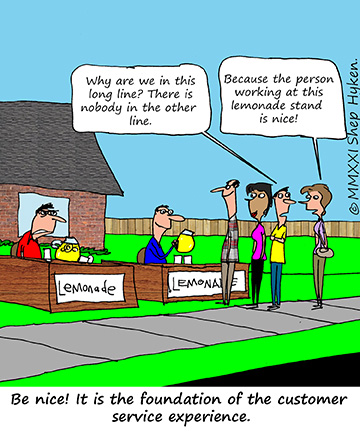 In my latest book, I'll Be Back: How to Get Customers to Come Back Again and Again, I share a story about the shortest customer service keynote speech I've ever delivered. The short version of this story is that I was the closing keynote speaker. The client said, "You have to end on time, no matter what time you start." I accepted the challenge and as we got closer to the time, I realized that the speakers ahead of me were going long. By the time it was my turn to walk on stage, I had just two minutes.
Two minutes! What can you say in two minutes? How could you warm up the audience in two minutes, let alone deliver a speech? I told my client, "I've got this."
I walked on stage and informed the audience that my original speech was much longer, but I promised the client that I would end on time. I said something like, "So imagine I was just introduced. You applauded and I took center stage. Okay, here goes. The shortest customer service speech ever …
"BE NICE!"
And with that, I headed off stage. I stopped a few feet short of the steps and turned around to face the audience. After all, I still had about a minute left. I informed them that being nice is the backbone of the customer experience and that it's common sense. After another brief comment or two, I exited the stage – in just under two minutes.
Now, the idea of being nice is ridiculously simple. But have you ever reached out to a company and its employee had the right answer, but an attitude that was negative or indifferent? Even with the right answer, without being nice, it was at best a bittersweet experience.
Being nice is so simple and easy. There's no excuse not to be nice. It may appear to be of minor importance, but don't be fooled. It's more important than you think.
I compare being nice to the dishwasher in a restaurant. It doesn't matter how wonderful the chef's meal is, if it comes out on a dirty plate, it's going back to the kitchen. And, if there aren't any clean dishes, the food can't even be served to the guest.
Being nice is like that dishwasher. Without this rudimentary concept, your best efforts in providing the customer a good experience are tainted.
While this may not seem like an important lesson, it is. Never overlook the power of being nice!
Related: How To Say Yes, Every Time