Written by: Christina Lu
The rise of digital, social media and the way people consume information has disrupted age-old traditions most of us have come to rely on. People are now highly connected, always on and fully in control of where they get their information from. And they are using multiple channels to get the information they need. Our clients are online, super tech savvy, make decisions based on their own research and just not as patient.
Also, since COVID-19 as you may know, life has changed dramatically with an increase in reliance online. To stay ahead of the curve, we need to evolve traditional PR to become more digitally centred.
And what's even better is that we can now prove our worth with digital more than ever before, beyond column inches, sentiment and vanity metrics such as reach, impressions and likes.
However, being digital means there's a lot of competition. There is an overload of content on the web and there's too much noise. This means there is little to zero capacity for consumers to consume information unless it's relevant and engaging. So hence, we must build connection, reputation and trust online using the right and smart communication strategies.
What is Digital PR?
Digital PR is more than just social media and media relations.
It is an online strategy that combines content marketing, search marketing and social media to increase online presence; the ultimate omnipresence.
Reasons to digitalise PR
There are many reasons to digitalise PR.
Compared to traditional PR, Digital PR changes the game and allows us to create an omnipresence to reach our audiences
In the short and long term, it allows businesses to engage with audiences online and offline
Did you know 80-90% of people's pre research online before making a decision, taking action or purchasing almost everything? Digitalising your PR will organically keep your brand top of mind for your consumers and clients
Provides us with more ways to measure our success
Takes the guesswork out of our work, taps deeper into our audiences
Journos are now researching online to find the right experts/commentators...so your brand needs to be front and centre everywhere
Digital PR involves combining our traditional/ core skills (owned content and earned content) into a more integrated approach to comms (using data and insights in owned, earned, shared and paid content with PR success and SEO to create success).
How to create an omnipresence to successfully reach and engage the right audience
To create an omnipresence, we must capture audiences in both browse mode and search mode.
Browse mode refers to cold audiences who use traditional and social media and briefly see your brand/ content, whereas search mode refers to warm or even hot audiences who are searching online specifically for your client's products and services.
So, in a nutshell, this is what we want.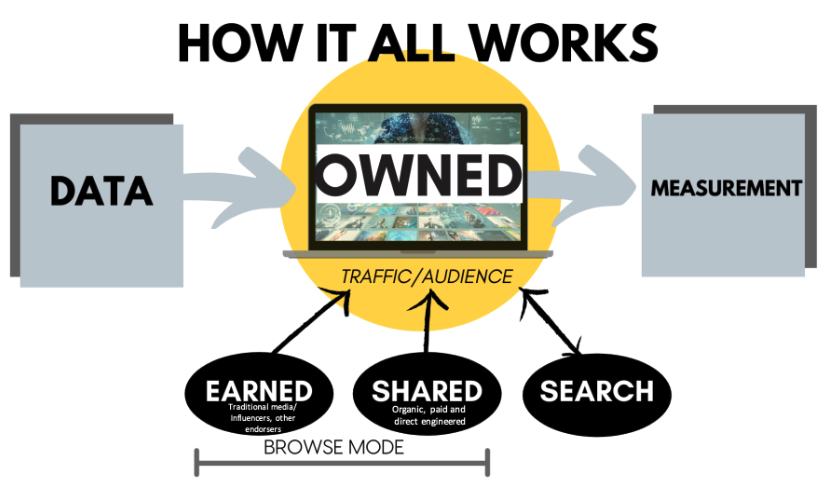 You want to use past data to understand what's working and what's not working for your audience. Then use those insights, to drive audiences to your website through earned and search media as well as having an online presence that optimised on search engines. This will then deliver performance which you will need to measure and benchmarked to industry standards/ or goals you've set for your campaign.
And here, I want to stress the importance of a high performing website because that is where you will be driving your traffic to. Your client's website is a living, breathing asset that needs to be fed to gain online authority. It's the most valuable online asset that is consistently updated with new and relevant information which will grow your client's online authority. 
No matter how much effort you put into driving traffic to a website, if your client's website is not up to standards, potential leads could bounce and leave, and never come back.
The ultimate Digital PR goals
Generate an omnipresence across your channels with content to drive awareness. Engagement and traffic back to your site
Create quality content that can rank online and be found by your audience/ journalists in the longer term
Gain backlinks from media and other higher authority sites to increase your online authority
Get engagement from your audience – keep an eye out for shares as they are a major endorsement of your brand online
Drive traffic/ audiences to your site so you can nurture them, measure the impact of your work and also increase your online authority
As I mentioned earlier – search mode is where we can get the hot audience. But how do we optimise for that? Well logically, if you think about it, Google is the #1 place people go to when researching anything right?
92% of all internet search queries are through Google
And 5.8 billion search queries are made each day on Google
This makes Google the largest media property in the world by any metric of your choosing. Did you know:
80% of people who use Google only click on the organic search results rather than the paid adverts at the top or bottom of the page
And 67% of all the clicks on Page 1 are on the first 5 organic results

Only 4% of people who search Google make it to the second page
So what do all these statistics tell us? It's telling us that people globally want quality, authentic content that has earned its place in their search results.
So we need to be smarter by leveraging PR and media and that includes "Search" as part of the mix.
So how do you get to page 1 of Google?
It's all about using:
The right keywords and topics
The right targeted content across a range of media channels
The right meta description and meta data. This is super important because this will help you have the best chance of being found online. 

Don't just engage with audiences on socials, make sure to link them to your client's website. Get people to share and use backlinks - this is absolute gold dust. A backlink is when a website links to a page on an external website.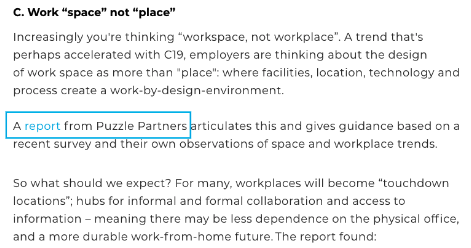 In turn, this will create omnipresence, raise awareness of your client's brand and secure their place on Google's page 1 as an authority.
Related: How Asset Management CEOs Plan To Use Digital Media