This guide will show financial advisors how to create a marketing strategy that appeals to high-net-worth individuals. Here's what you can expect to learn:
How high-net-worth individuals find a financial advisor.
What high-net-worth individuals look for in a financial advisor.
Strategies to market to high-net-worth individuals
So, let's jump right in by reverse-engineering our situation. If we want to market to high-net-worth individuals, we need to ask, how do high-net-worth individuals find a financial advisor in the first place?
How Do High-net-Worth Individuals Find a Financial Advisor?
The traditional answer is through recommendations. And that's partly true. But a study from Oechsli shows the situation is more complex:
As you would imagine, preferences vary depending on age. But there's more to our equation – according to estimates from Cerulli Associates, "nearly 45 million U.S. households will transfer a total of $68 trillion between generations in the next 20 years."
Younger generations (the 45s and younger in our table above) are estimated to inherit this wealth, making Millenials the next high-net-worth generation. Online searches would become the preferred method of finding an advisor.
But what about today? A study from Pew Research Center shows the use of search engines across different demographics: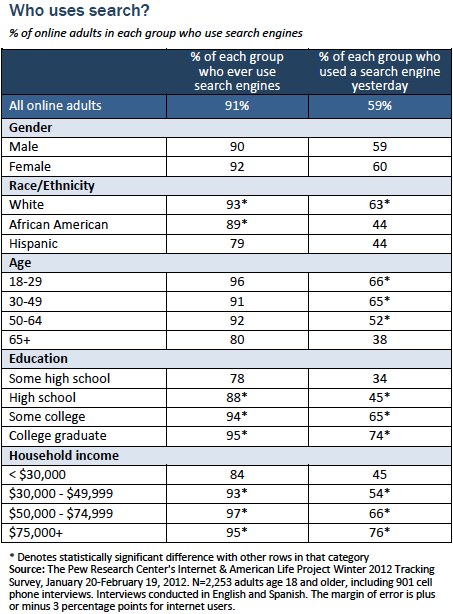 The use of search engines remains relatively high for both older generations and higher-income households.
Collectively, this tells us that advisors who are looking to attract high-net-worth individuals should focus on building their online presence.
5 Strategies Financial Advisors Can Use to Market To High-net-Worth Individuals
Attracting HNW individuals to your firm requires a strong online presence. Here's how you can build one.
1. Invest in Search Engine Optimization (SEO)
One of the top requirements of our data above was "searchability." In short, finding a business online through search engines, namely Google.
Search Engine Optimization, or SEO for short, is the strategy and method a business uses to rank better in search engines, in most cases Google search. Using SEO, businesses can improve their ranking to appear near the top of a Google results page – making their business appear more often for certain queries.
SEO is a complex topic, and strategies are changing every year. But, there are a few key things you can do to start.
SEO BASICS:
Consider your keywords: What would a HNW individual be looking for? What financial problems do they want to solve? These questions will get you on the right track for determining the right keywords for your website. These can then be used to create content that answers these questions.
Build a blog: Your blog is where this content will be stored. Each article you write will rank for a different set of keywords and support one another.
Prioritize link-building: Links tell Google and other search engines that a website is reliable (increasing the chances the site ranks higher in search). Prioritizing link-building strategies not only increases the visibility of your content but improves its overall search performance.
Check SERPs for context: Not sure whether a keyword works? Do a quick search. The content that appears is what Google considers rank-worthy. By looking at this content, you can gain context into the content that's successful, and create your own version. For example, if Google recommends videos as an answer to a query, that tells us that most searchers are looking for videos. Creating content that answers this search intent is key to success.
Of course, this is not an exhaustive list of SEO. To learn more, consider exploring our blog.
2. Demonstrate Trust
According to the Investments and Wealth Institute, 87% of investors list trustworthiness as one of the most important qualities for selecting an advisor.
Makes sense, after all, every client is trusting their advisor with their savings. So, how can you build trust?
HOW TO BUILD TRUST WITH POTENTIAL HIGH-NET-WORTH CLIENTS:
Google Reviews: With the new SEC Ad rule, advisors now have the opportunity to leverage testimonials in their marketing. To take advantage of this opportunity, start by verifying your Google My Business. Then, establish a strategy for acquiring more reviews. Be sure to check with your compliance team and their approach the SEC's new ad rule before implementing this strategy.
Google Screened: This is a relatively new feature designed to specifically improve trust. In short, Google Screened allows advisors to go through a verification process to receive a green checkmark next to their business in local service ads. This can improve searcher trust.
Demonstrate competence: Writing and sharing content on trending topics is a fantastic way to demonstrate competency. Discussing financial services and sharing your opinion positions you as an expert to a new visitor's eye. In turn, improving trust in you and your team's skillset.
3. Provide a Transparent Fee Structure
Let's imagine you're at a nice restaurant. The menu has an array of choices, but no prices are listed next to the items.
Now, do you think the items are more or less expensive?
Typically, not listing a fee implies higher costs. Of course, a HNW individual can most likely afford these costs. But that's not the purpose of providing transparency.
Transparency implies trust (adding to our number 2 list). And it helps potential clients self-qualify, saving them time by showing them exactly what they can expect and how much it costs.
For example, WealthKeel provides a clear fee structure, with not one, but two options for potential customers.
4. Be Active on Social Media
Many advisors avoid social media because they feel it doesn't bring results. But social media doesn't provide an immediate return, it's a long-term investment in your brand's personality.
In short, social media is the channel with which you showcase what make's your firm different. Sharing content, discussing hobbies and engaging other users are a few ways to be active on social media.
And, when a prospect is determining which advisor to work with, shared interests, personality and branding can make all the difference.
One might assume HNW individuals don't spend time on social media. But this isn't the case. In fact, many HNW and even Ultra-High-Networth individuals are active on social media every day:
5. Highlight Your Firm's Values
Similar to shared interests, demonstrating shared values is another way to attract HNW individuals. Of course, this can come across on social media through your content and the way you share it.
But one of the best ways to demonstrate values is through a community page. As a separate page on your website, your community page demonstrates your charitable interests and the ways you support your local community.
HNW individuals that share these values may be more inclined to work with your firm.
Wrapping Things Up
Marketing your firm to HNW individuals is not much different from marketing to other prospects. Searchability, trust and shared interests should form the backbone of your efforts. To make the biggest difference, focus on understanding the needs, interests and pain points of HNW individuals, and providing information and content on these subjects.
Related: 8 Types of Content Financial Advisors Can Use To Get Shares on Instagram