I spotted an update from a colleague the other day, questioning the future of the big card processing companies. For me, they are a duopoly. Processing more than three-quarters of world card payments, and terminals and paypoints everywhere online and offline, I cannot see Visa or MasterCard (MasterChip?) disappearing in the near-term. That leaves a question about the long-term. Panagiotis Kriaris, Head Of Business Development for Unzer, a German payments firm, asks the question.
He kindly shared his thoughts and gave me permission to share them, so here they are:
Will Visa and MasterCard survive?
Visa and Mastercard have been sitting for decades on top of a very lucrative business and making hefty profits out of it. But how sustainable is it? Let's take a look.
Both companies are synonymous with credit cards, which have been for the past decades the main payments rails – together with cash – in the West. Their combined (credit-card) market share sums up to 75%-80% (Visa ∼50%, Mastercard ∼25%), meaning that together they account for nearly 8 out of 10 purchases globally!
Their model is simple: Visa and Mastercard manage the rails that connect banks with customers. This middleman role allows them not only to define their access fees (the costs for routing a card payment through their network), but also the interchange fees that merchants pay to the card issuers.
The US and Canada have the highest interchange fees in the world, ranging from 1.5% of the purchase price all the way up to even 3.5%. Europe with its strong antitrust policies has since 2015 a cap for card-based payments (0.2% for debit cards and 0.3% for credit cards), having calculated in 2014 that they costed business in Europe the annual equivalent of €10bn.
Their astronomical margins (at 51.99% for Visa and 46.49% for Mastercard) come, therefore, as a little surprise. For comparison reasons, Apple, the globe's most successful company has a net margin of 25.71% (all data from Macrotrends as of June 30,2022).
The success of this model is depicted in the capitalization of both companies, which has increased spectacularly over the past 15 years and is approaching half a trillion for each (Visa stands today at $416 bn and Mastercard at $311bn).
Looking at the big picture Visa and Mastercard seem to be on the peak of their game having even displaced many global banks in the global top-10 financial institutions ranking.
But how sustainable is this? A few developments stand out:
Open banking is changing the name of the game in that it not only connects merchants with consumers in a direct way, but it can also initiate payments directly from bank accounts at a fraction of the cost of credit cards
Regulators globally take a harder stance: even in the US the recently introduced Credit Card Competition Act wants to spur competition to the market and lower acceptance costs for merchants and consumers, via forcing banks to allow merchants to choose from at least two different card networks
The increase in popularity of alternative payment methods – from Buy-Now-Pay-Later to digital wallets and to Superapps – gives back to merchants negotiating power over credit cards amidst fierce ecommerce competition
Going forward, credit cards and companies like Visa and Masteracrd are not going to go away. But they have to adjust to an increasingly multi-polar payments environment with novel infrastructure capabilities. And that means that some of their established power will change hands.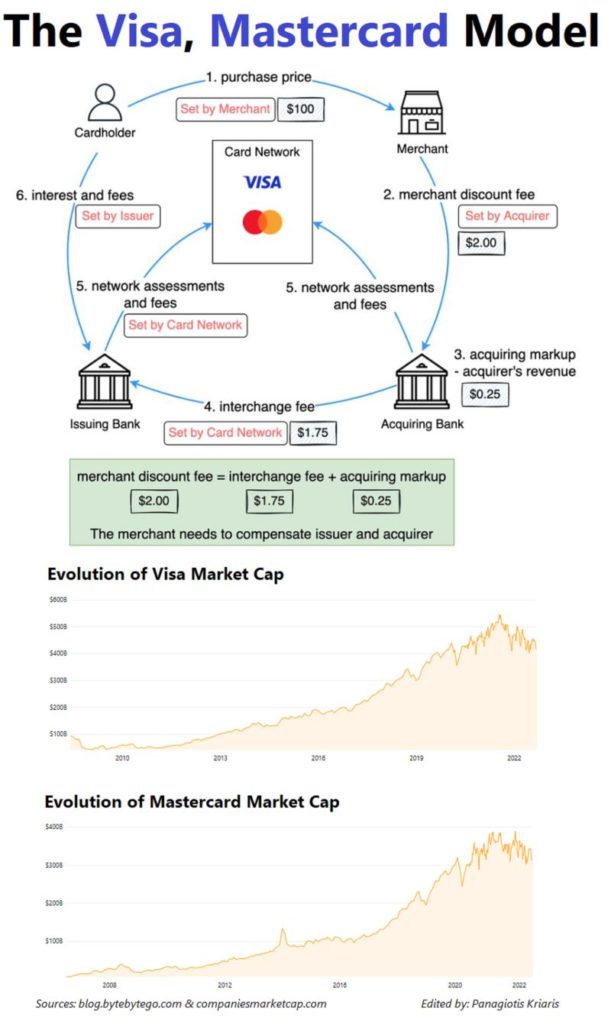 Related: Has Goldman Sachs Lost Its Marbles?
Opinions: Panagiotis Kriaris
Graphic sources: blogbytebytego & companiesmarketcap