Written by: Ashley Perlmutter
You always hear people talking about saving for the future and for retirement. But you may be wondering why is it so important? Well, saving for your future and building your wealth can be quite simple if you go about it in the right way. One of these "right ways" includes STARTING EARLY.
Starting early is a great savings philosophy and strategy when it comes to building your wealth. When you're just starting your career, it's very important to save as much as you can as early as you can. When you're young, you might not have as many expenses or financial burdens than you will later on as your life becomes more complicated.
Another reason to start saving early is because of the power of compound interest. Compound interest is when you earn interest on both the money you've saved and the interest you earn. Increasing the compounding frequency or your interest rate, or adding to your principal, can all help your money grow faster. Also, money invested earlier in time will grow faster than money invested later in time. So if you save as much as you can as early as you can, you will be better off as you near retirement.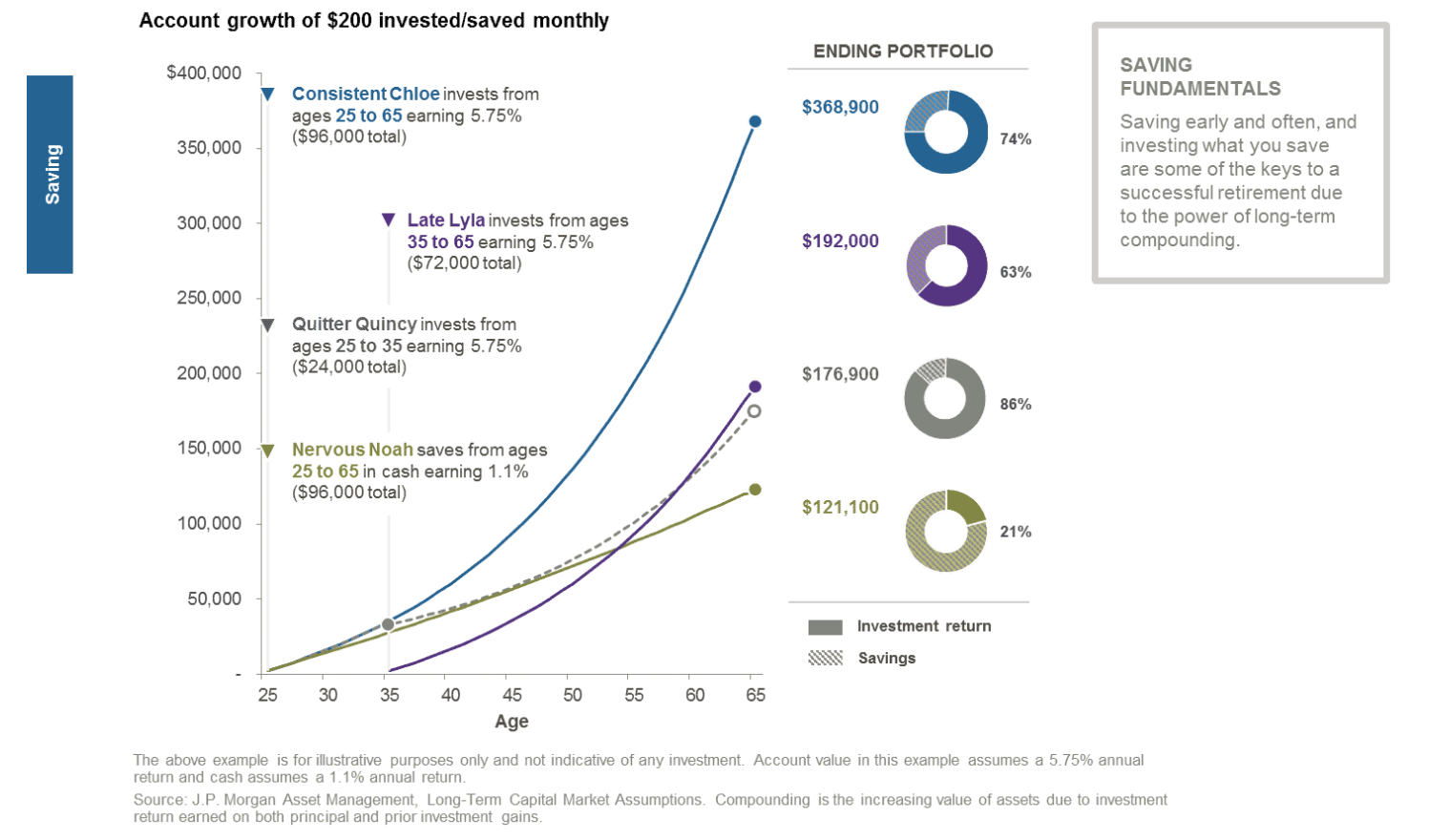 The graph above from JP Morgan shows account growth of $200 invested/saved monthly among 4 individuals starting at different times. As you can see, with the same rate of return of 5.75%, Consistent Chloe, who consistently invested her money starting at age 25 to age 65, ended up with the greatest ending portfolio.
Finding a balance between saving, investing, and also enjoying your life is not an easy task, but it tends to be easiest when you start early. Starting when your career is jumpstarting is a great way to get yourself consistently saving and investing and will benefit you in the long run.
Related: Has This Market Correction Changed Your Thoughts On Investing?