Written by: Meera Pandit
One of the most critical levers to reduce carbon emissions globally is transportation. Transportation accounts for 16% of global greenhouse gas emissions, with nearly three-quarters coming from passenger travel and road freight. The shift to electric vehicles (EVs) is still in its infancy, but actions by policymakers and changing consumer preferences are accelerating this transition. A U.S. executive order calls for 50% of all new vehicle sales to be EVs by 2030, while China is targeting 50% electrified sales by 2035. The EU plans to phase out new combustion engine cars altogether by 2035.
Automakers are responding to these goals and shifting consumer preferences by expanding their line-ups to include EV options. IHS Markit estimates there will be 130 models available by 2026 from 43 brands globally. Currently, there are about 16 million EVs on the road globally, with 6.7 million sold in 2021 alone. Market share of EV sales doubled in 2021 to 8.6%. The IEA estimates given the existing policies globally, the EV fleet could reach 145 million by 2030.
Although the growth of EVs is promising, investors ought to be cautious about the many new EV automakers that have come to market without a viable product, much less scalable production, revenues, or profits. Remember that a century ago, there were hundreds of U.S. automakers, but today, there are the "Big Three." This is an industry that lends itself to consolidation given how capital intensive and specialized it is. Therefore, there will be many losers and a few big winners, underscoring the need for careful stock selection.
Investors ought to think beyond just EVs to the ecosystem around them for opportunities. This includes batteries, EV chargers, and electrification of the energy grid. Growth in these areas is likely to be impressive. Total battery demand for EVs is expected to increase by 40x by 2030. In addition, there are 1.3 million public EV chargers globally, but 40 million will be needed by 2030, according to the IEA.
For investors, this presents opportunities in the companies that are modernizing transportation, such as ABB and CATL.
ABB is a world leader in electric vehicle infrastructure, offering a full range of charging and electrification solutions. The company has sold more than 460,000 electric vehicle chargers across more than 88 markets and recently launched the world's fastest electric car charger – capable of fully charging any electric car in 15 minutes or less. The company's new Terra 360 modular charger can charge up to four vehicles at once. By 2030, the company expects to reduce its customers' annual GHG emissions by at least 100 megatons, equivalent to that of 30 million internal combustion cars.
Contemporary Amperex Technology Co., Limited (CATL) is a leading EV battery producer. As one of three producers that in aggregate account for over 70% of EV batteries, the company benefits from high barriers to entry in the industry and is a key supplier to Tesla. The company produces Lithium Iron Phosphate (LFP) batteries, which could be more insulated to rising commodity prices given their particular metals composition.
These companies are among the holdings of J.P. Morgan's Climate Change Solutions ETF (NYSE:TEMP). An actively managed sustainable fund. The securities highlighted above have been selected based on their significance and are shown for illustrative purposes only. They are not recommendations.
Global electric vehicle sales
Millions (left), percent (right)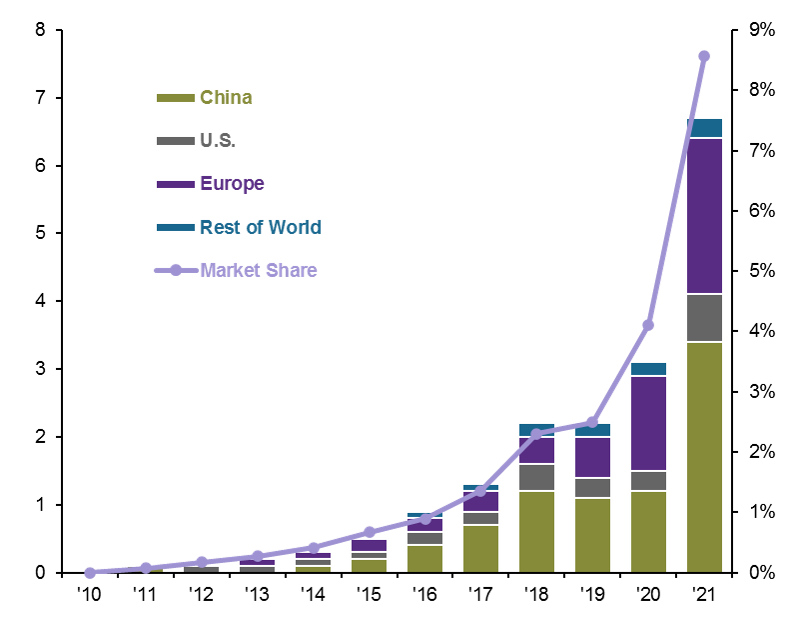 Sources: IEA, IHS Markit, Our World in Data, J.P. Morgan Asset Management. IEA (2022), "Electric cars fend off supply challenges to more than double global sales," IEA, Paris https://www.iea.org/commentaries/electric-cars-fend-off-supply-challenges-to-more-than-double-global-sales. Data are as of March 30, 2022.
Related: Is Market Timing Worth It During Periods of Intense Volatility?