Written by: Meera Pandit
Although climate change is a key consideration in sustainable investing, sustainable investing is more broadly about finding companies that are durable in the long run and identifying risks that traditional company analysis may not capture. The war in Ukraine is first and foremost an immense tragedy, but it also exposes how seemingly unrelated geopolitical risks and climate challenges intersect, and how companies can innovate to reduce the economic impacts to the consumer.
Renewable energy – The EU imports 23% of its oil and 38% of its natural gas from Russia, which has stymied its ability to swiftly impose energy sanctions. However, the European Commission has proposed a two-thirds reduction in gas imports from Russia by the end of 2022 but achieving this will be a tall order in such a short amount of time. It will require an accelerated shift to renewable energy, but also investment in means to store and transport renewable energy and electrify the grid. The technologies exist, but it will take time and resources to scale up.

Sustainable food and water – Russia and Ukraine together account for a significant portion of the world's corn, sunflower oil, wheat, and fertilizer production. The war has caused significant disruption to global food supply and the U.N.'s food price index recently posted a record gain. Climate change compounds these disruptions, as it contributes to depressed crop yields and extreme weather that can damage food production. However, companies are developing solutions for more efficient agricultural techniques and technologies, better waste and water management, sustainable fertilizers, and improved supply chain practices that should strengthen the global food system over time.

Electrified transportation – The war has also precipitated a spike in energy prices. WTI oil is up about 30% YTD and gas prices in the U.S. have topped $4 a gallon for the first time since 2008. This has many consumers reconsidering the merits of electric vehicles. The shift to electric vehicles (EVs) is still in its infancy, but automakers are expanding their line-ups to include EV options. IHS Markit estimates there will be 130 models available by 2026 from 43 brands globally. Investors should also consider opportunities in the broader EV ecosystem, including batteries, EV chargers, and electrification of the energy grid.

The war unfolding in Ukraine is a political crisis, yet it also highlights economic vulnerabilities to many industries, and underscores the need to adapt in the face of both geopolitical and climate risks.
Contribution to global production of commodities
% of global production, latest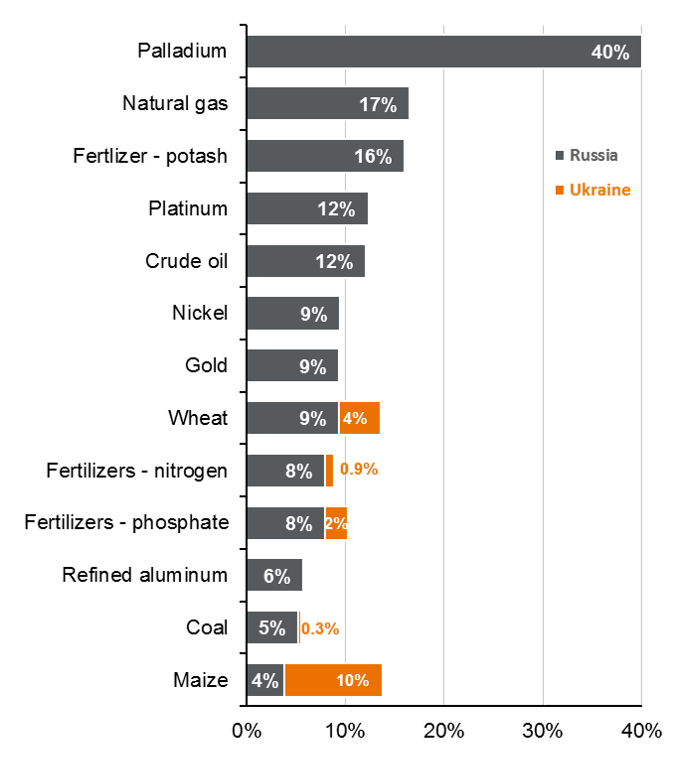 Source: Eurostat, HSBC, FactSet, J.P. Morgan Asset Management. Guide to the Markets- U.S. Data are as of April 22, 2022.