Written by: Gabriela Santos
Since the onset of the pandemic, global supply chains have been stressed, weighing on economic growth and lifting consumer core goods inflation. Supply chain issues had seemed to peak in December, with some encouraging improvement in the first two months of 2022. However, China's continued "zero tolerance approach" to COVID is causing investors to wonder: will this threaten global supply chains? Supply chain indicators have worsened again in March, but how much stress they face will depend on the direction of the pandemic in China, the percentage of its economy under lockdown, and its ability to continue to prioritize industry and exports during this period. This will impact when global inflation peaks and how much China's economy slows.
The stress in supply chains during the pandemic has been unparalleled. The Federal Reserve Bank of New York's Global Supply Chain Pressure Index, combining components related to the price and time to acquire goods, showed supply chain stress 4.5 standard deviations above the 25-year average in December 2021. China itself was not the main culprit, as production and exports have powered its economic growth since March of 2020. Other countries in Asia, such as Vietnam and Japan, contributed to snarls in goods production and transportation. Slowly, the stress had begun to diminish in January and February as these countries abandoned "COVID zero" policies.
However, since mid-March, daily new COVID cases in China have risen to levels unseen since early 2020, as the more contagious Omicron variant met the population's lower level of immunity. Differently to many other countries, China has maintained its "COVID zero" approach. Currently, about 25% of China's GDP is under some form of lockdown, including the economically important city of Shanghai. It seems likely China will continue its distinct approach to the pandemic for longer, while it vaccinates its elderly population further, develops more effective vaccines, and procures more supply of treatments. In the meantime, China continues to prioritize keeping factories and ports open, minimizing their disruption by setting up "closed loop" systems whereby workers can sleep and test at work.
An impact on production and transportation has occurred over the past month but has been more short-lived than that on individual mobility and consumption. China's economy has begun to feel a hit from the lockdowns, with the March monthly data showing an acute negative impact on retail sales (-3.5% year-over-year) versus industrial production's growth of 5.0% year-over-year. There has been an impact on production, however, with indicators like truck freight, port traffic, delivery times, and backlog of work worsening since mid-March. In April, the American Chamber of Commerce in China surveyed 167 companies with operations throughout China and found that 86% of manufacturers cited disruptions to trucking and shipping networks impacting their supply chains.
As a result, global inflationary pressures from core goods will persist longer than expected before the normalization in supply chains in the second half of the year. Domestically, China's economy may decelerate further in the second quarter before an eventual rebound in the second half driven by credit stimulus and better pandemic control. Valuations in Chinese equities now better reflect many risks in China, with the MSCI China seeing a 44%pt multiple contraction since its February 2021 high, leaving its P/E at 9.9x, the lowest since 2016 and 16% below its 20-year average. This provides an attractive entry opportunity for investing in the "new new China": companies listed locally (A-shares) and related to business technology, domestic consumption, and decarbonization. Better news on the pandemic, stimulus, and regulatory front could be a powerful catalyst for the market to rebound.
Supply chain stress has increased in China since mid-March
Left: Truck freight index (2019 average = 100), Right: daily new COVID-19 cases*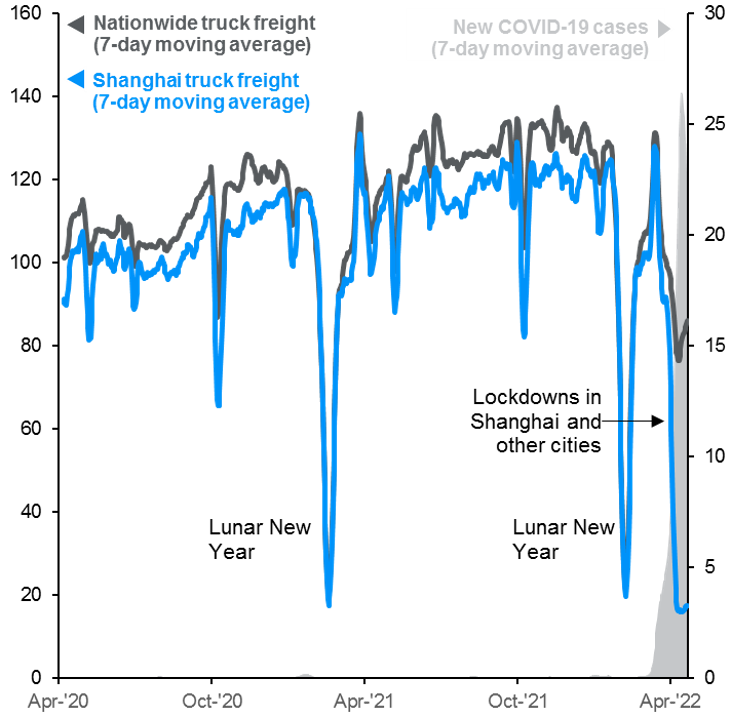 Related: How Do Geopolitics Highlight the Need for More Sustainable Innovation?
Source: G7 Internet of Things Platform; Wind, J.P. Morgan Asset Management.
*COVID-19 cases incorporates both confirmed and asymptomatic cases.
Confirmed cases are infections with imagological changes to the patients' lungs.
Asymptomatic cases are patients with positive PCR testing results and/or mild symptoms, while without imagological changes in lungs.
Guide to China. Data are as of April 28, 2022.