Written by: Susannah Streeter | Hargreaves Lansdown
Shares in Beyond Meat, Oatly, Tattooed Chef and Else Nutrition shares down sharply in 2021.
Supply chain issues cause a migraine for vegan stocks.
Global plant-based meat market is still predicted to grow by 18.9% a year.
Market expected to reach more than £13 billion by 2026.
Vegan players outside the food and drink sector include Microsoft, Apple, Intel, Microsoft and Visa.
Many more people look set to be persuaded to make a meat free pledge next month, with the Veganuary movement attracting millions of followers and hundreds of brands. After weeks of festive overindulgence and the opportunities to eat out in favourite restaurants with family and friends dwindling, January may seem an opportune time to try vegan dishes at home. But although there is likely to be a temporary surge in sales of meat and dairy free ranges, it won't necessarily be the immediate saving grace for vegan food firms which have seen valuations plummet over recent months.
Although the global plant-based meat market is still predicted to grow by 18.9% a year, reaching to reach more than £13 billion in four years' time, 2021 hasn't been a smooth ride for some of the headline acts on the vegan billboard and investors may need a lot of patience to see a significant return on their investment.
Larger more diversified food producers, muscling in on the vegan space have been more resilient, offering greater strength through diversity of product ranges, and with more advanced supply networks and pricing power.
Beyond Meat has seen its share price fall by 48% over the past year as investors lost appetite for the company following disappointing roll out of its alternative chicken tender ranges. Shareholders appear to have become impatient with the company's tendency to over promise but under deliver in terms of sales. They had been hoping for a rapid bounce back after the closure of restaurants during the pandemic which upset the company's fast-growing revenues in its food services division. But the distribution to restaurants and grocers of new ranges has been slow.
There were high hopes that 2021 Nasdaq newcomer, Oatly, would tap into the high demand for dairy alternatives, and with a quarter of a century's experience in delivering milk free goods, it appeared to have significant first mover advantage. But the froth has been wiped off the $13.3 billion valuation with shares sliding by 62%. It's been beset with supply chain issues, with driver shortages causing severe distribution problems in Europe. Pandemic closures have also hit hard with hospitality closures in Asia hurting sales and factory production issues in the US also acting as a drag on performance.
Tattooed Chef launched onto the stock market in November 2020 in a reverse merger with a SPAC Forum merger 11, with the aim of capitalising on the growing demand for plant based frozen dishes in the United States. Although it secured distribution through Walmart, Target and Costco stores, it's been plagued by supply chain issues and rising prices for raw materials which have seriously squeezed margins. That's clearly worried investors with shares down by almost a third over the year. But it still expanding the outlets it sells in and new acquisitions like New Foods of Mexico should help it extend its product ranges, so its gaining scale but it comes at a cost, so while it's on a quest for high growth, losses are likely to continue. Shares are down 30% over the last year.
Israeli firm Else Nutrition has also had a hugely disappointing 2021 with the share price down by 70% year to date. The company has developed a line of toddler formula milks and shakes for children which are organic, vegan and made from ingredients such as buckwheat and tapioca. Its revenue growth is powering ahead but investors seem to be worried about the rate of cash burn to fund its growth.
Unilever which is investing in expanding its vegan ranges, hasn't been immune to cost inflation despite its hefty size but it offers more strength given the diversity of its product lines. It's partnership with microalgae start up Algenuity will be one to watch, as the opportunity Algenuity's Chlorella presents as a sustainable, nutritious and health-promoting plant-based protein alternative gains ground. Food giant Unilever already offers a dairy-free version of its Ben & Jerry's ice cream range - made from almond milk as well as a vegan Cornetto and Magnum. It is giving Beyond Meat a run for its money with its own vegan burger range. Unilever plans a five-fold increase of vegan products over the next seven years, targeting £900m in sales annually.
Nestle has entered the plant-based food market, directly targeting shoppers with its Nescafe gold alternative lattes offering almond, oat and coconut options. For its wholesale market it's now providing a vegan cheese to its restaurant customers to complement its existing range of Garden Gourmet plant-based burgers and sausages. It's expanded its range after acquiring California based Sweet Earth Foods in 2017 and now a tuna alternative dish is one of its latest weapons in the drive to gain market share in the vegan space. Nestlé's share price has risen 22% over the past year.
Britvic in the FTSE 250 is also hoping to milk the growing market having snapped up Plenish, a fast-growing vegan drink brand. Plenish was founded by a New York entrepreneur Kara Rosen who was dissatisfied with the range of non-dairy products in the UK and came up with soya, hazelnut, coconut and cashew nut alternatives. Britvic's shares have risen 10% over the past year.
Coca-Cola aimed to capitalise on the bubble of interest surrounding non-dairy drinks through its acquisition in 2017 of the AdeZ brand of plant-based smoothies. It was rolled out in Europe in 2018, and the brand should get a dose of extra fizz given it's been chosen by Coca-Cola as the drink used to trial its new paper bottle later this year, to try and add to its eco-credentials. It also expanded its range last year in the alternative dairy market by launching Simply Almond Milk branded products. Coca Cola's share price is up 9% over the past year.
Hotel Chocolat in the FTSE Aim index has slipped comfortably into offering non-dairy alternatives as part of its expansive confectionary range. It offers vegan chocolate selections made with nutmilk and also vegan mixes for use with its Velvetiser home creative kit. Its share price has risen 8% over the past year.
For investors looking further afield for a vegan play and don't wish to invest any money in companies which could involve animals in some way, there are other sectors to choose from, including transportation and technology stocks. However, investors will have to do their homework, as there is a risk that animals may have been involved in R&D in some element of the process, for example in the past even the space sector has used animals for testing, prior to human missions.
Microsoft is one technology company which is held by the Vegan Climate ETF* as none of its activities are perceived to exploit animals. It has also made strides in reducing emissions and aims to be carbon negative by 2030 to limit harm to the planet overall.
Even though Apple is not usually associated with animal welfare, it's also considered to be vegan friendly and is held by the Vegan climate ETF. It has purchased 4 gigawatts of renewable energy and is partnering with Conservation International to invest in forests and ecosystems with the aim of removing 1 million metric tonnes of carbon from the atmosphere.
The semiconductor maker Intel is another stock to consider for its environmental credentials as it has a goal to rely on renewable energy for all its global electricity use.
Payment firms Mastercard and Visa are also among the Vegan Climate ETF's top ten holdings, as they are also considered to be climate friendly. Mastercard sources renewable energy for 100% of its global operations and is involved in cross-sector initiatives such as the Greener Payments Partnership. Visa has transitioned to 100% renewable energy for its offices and data centres and is included in the Dow Jones Sustainability North American Index.
*The US Vegan Climate ETF is not set up on the Hargreaves Lansdown platform for regulatory reasons. This ETF is traded in the US on the NYSE and as a result the issuer has decided not to produce a KIID – this is the case with the majority of US ETF's.
Post MiFID II, issuers for certain securities have to produce a KIID (Key Investor Information Document) in order to enable retail investment.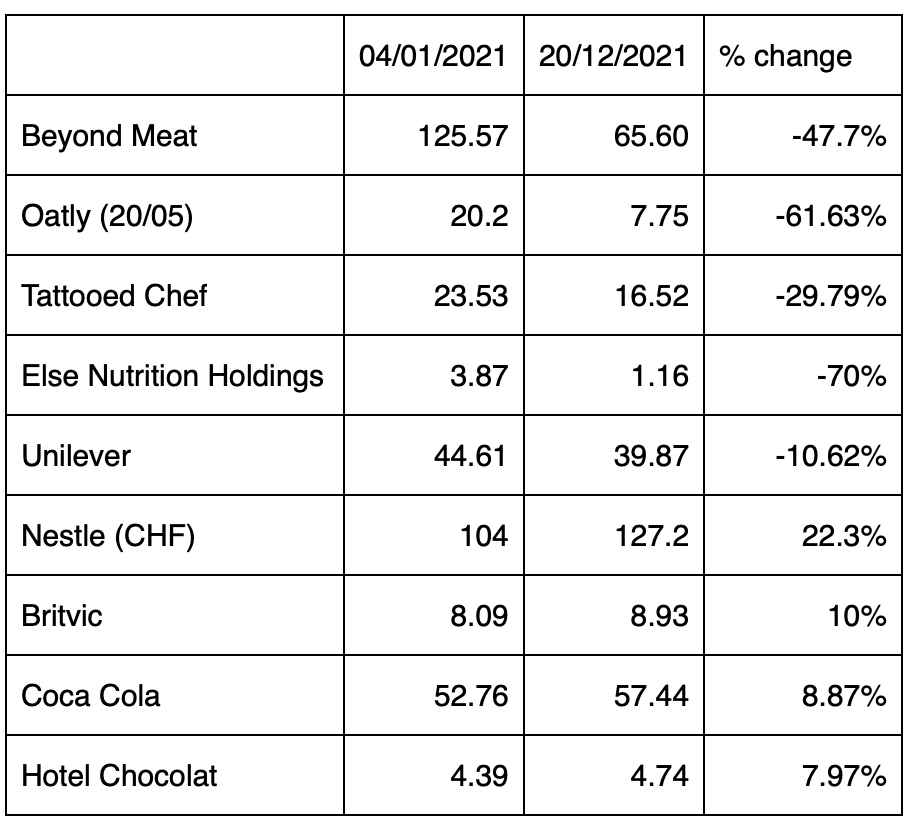 Related: Investors in Airline Industry Buckle up Amid Another Bout of Turbulence