Written by: Rafael Zorabedian, Contributor
The Biden administration is 125 days old, and things certainly feel different. What strategies are you employing to take advantage of the shift?
Things often change temporarily before reverting to a mean. Just like market instruments, changing political ideals can, do, and will change, before ultimately reverting back to a mean, or an average state.
Labor force configurations have changed drastically, partially due to the pandemic. What was once everyone's dream "to work from home", went from a wish to a potentially harsh reality and has stayed there for many people.
On top of the new remote workforce norm, there has been a shift for many wageworkers, as they are becoming increasingly reliant on government-funded subsidies such as unemployment benefits, food assistance, and others to survive. Many workers needed these benefits to survive during the peak of the pandemic. Many red states have already begun the process of limiting or restructuring unemployment benefits and requirements. However, many blue states have not done so, and perhaps do not intend on doing so.
These collective actions and inactions create a lack of desire for many wageworkers to return to work. And, why would they? If a worker can receive an equal-to, or in many cases, a higher amount of compensation without having to work, there is no financial incentive, albeit some may have a moral incentive. This dynamic creates challenges for small business owners in the US.
Let's assume that you are a restaurateur. You require a labor force that has a certain skill set and commands a certain compensation. Since the labor market for this type of work does not command a very high rate of pay, the work pool shrinks, and labor is hard to find. So, raise the minimum wage, you say? Then, the small business restaurateur may not be able to survive and continue operations, doling out delicious delicacies to the neighborhood. Who wins in that situation?
Inflation does not help. Is it highly coincidental that inflation metrics have suddenly spiked while a large percentage of certain workforces are not working? What about housing? If you are in the US (depending on your local market), you may be all too familiar with sky-high single-family home prices, and rents are out of control in many markets. Housing seems to be a luxury in many markets and for many people at this time.
How do we try to profit from it? Automation.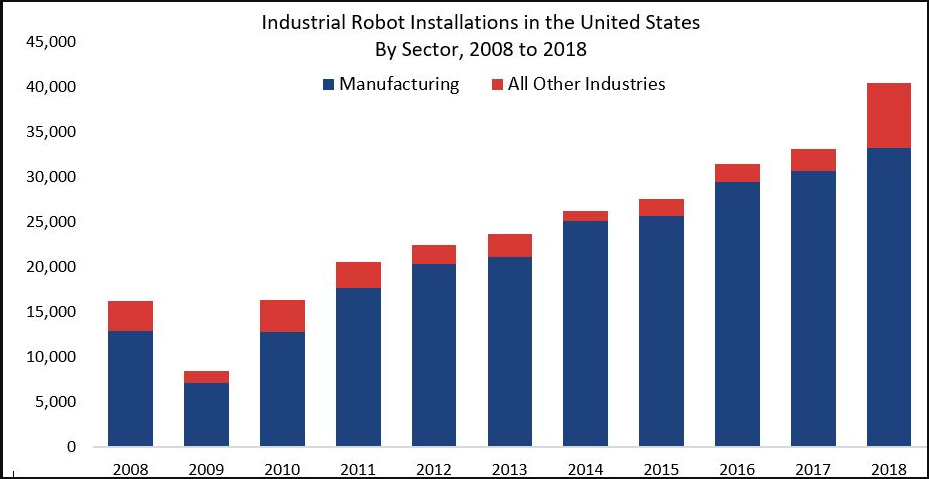 Figure 1 - Industrial Robot Installations in the United States 2008 - 2018. Source International Federation of Robots ifr.org
While the above graphic is a bit dated, it shows an exponential increase in industries other than manufacturing in 2018.
Robots don't need paychecks or lunch breaks. They never call in sick. Bringing a robot into service is a one-time cost and a maintenance cost. If there is no human work pool to fill a demand, robots and automation will likely continue to be the answer, and potentially at a higher rate of increase.
There is no shortage of ETFs for an investor to gain exposure to this trend in automation. After sifting through many of them, I wanted to discuss one that really stood out to me today.
Now, for our premium subscribers, let's take a look at an instrument that could benefit from increased automation adoption. Not a Premium subscriber yet? Go Premium and receive my Stock Trading Alerts that include the full analysis and key price levels.
Related: 10-Year Note Yields: Opportunity to Benefit?
The views and opinions expressed in this article are those of the contributor, and do not represent the views of IRIS Media Works and Advisorpedia. Readers should not consider statements made by the contributor as formal recommendations and should consult their financial advisor before making any investment decisions. To read our full disclosure, please click here.