Every market cycle has them.
A new group of "super stocks" that go from unknowns to household names within a few years.
These are the sorts of investments that change people's lives. They can rescue portfolios from the depths of a bear market.
Last decade, Netflix (NFLX) was the #1 super stock. In 2010 it was a little-known startup. By 2020 it dominated streaming... and handed out 8,740% gains along the way.
In this essay, I'll show you a new group of super stocks that's emerging right now.
They're from a sector you'll probably recognize... but it's unlikely you've heard the names of these under-the-radar stocks.
And if you're wondering why I'm looking for stocks to buy in today's ongoing bear market...
It's because difficult market conditions are perfect for identifying the next super stocks.
In my 10+ years as a trader, I've learned stocks that rise or refuse to go down in bear markets are often the absolute best stocks to own in the following bull market.
Semiconductor stocks were some of the strongest performers in the last bull market...
"Semis," commonly called microchips, are the brains of modern electronic devices. They're central to artificial intelligence, electric vehicles, solar energy, edge computing, and every other major technological megatrend.
Right now, most investors want nothing to do with semis. I can't blame them. Sales of semis tend to rise and fall with the economy. And there's plenty to be worried about economically today—including a looming recession, spiking interest rates, and a trade war with China.
These worries are reflected in the stock prices of big semi companies. Nvidia (NVDA), Advanced Micro Devices (AMD), and Taiwan Semiconductor Manufacturing Company (TSM) all grew into household names during the 2010s. But now, they're struggling.
Despite bouncing recently, all three of these popular semi stocks are nowhere near recent highs.
At the time of writing, the same is true for the major semi ETFs like the VanEck Semiconductor ETF (SMH), which is down 32% from its 2021 peak.
So it might surprise you that all three of the stocks I'm targeting are semiconductor stocks.
They're small… And because they specialize in niche industries, they're less susceptible to a slowing economy—so their sales can continue to grow at a blistering pace.
I'm struck by the relative strength of these stocks. The markets have been volatile at best, and many semi stocks have been unable to get off the mat.
But these three semi stocks are standing out from the crowd and chugging to new highs…
The first is Aehr Test Systems (AEHR).
Aehr specializes in developing, making, and selling systems that reduce the cost of testing semiconductors. The company is far from a household name.
Aehr currently has a market value of a little over $700 million—about 1/10th of the smallest company in the S&P 500.
But it has the potential to become one of the top-performing semi stocks.
Despite the recent economic headwinds, Aehr is growing quickly. Last quarter, its sales soared 91%.
Most important, AEHR is displaying incredible relative strength. You can see what I mean below...
As of November 29, AEHR nearly doubled since September, and has nearly quadrupled since early July!

Source: StockCharts
This sort of strength should not be ignored.
Rambus (RMBS) is another under-the-radar semi stock to watch…
Rambus creates products that fix the bottleneck between processing and memory. In short, it helps semis work better.
Like Aehr, the strength in Rambus jumps off the screen. RMBS has rallied nearly 90% since June.
Not only that, it recently broke out to new all-time highs: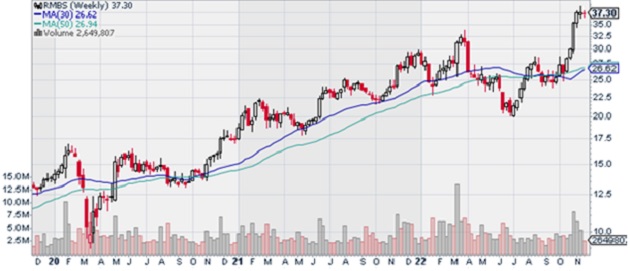 Source: StockCharts
The last "must watch" semi stock is ON Semiconductor (ON)…
ON designs and manufactures various semi parts.
ON Semiconductor is much larger than Aehr and Rambus. It has a current market value of $32 billion. However, it's still far from a household name.
Like Aehr and Rambus, it's displayed remarkable strength in recent months. It's rallied more than 64% since bottoming in July.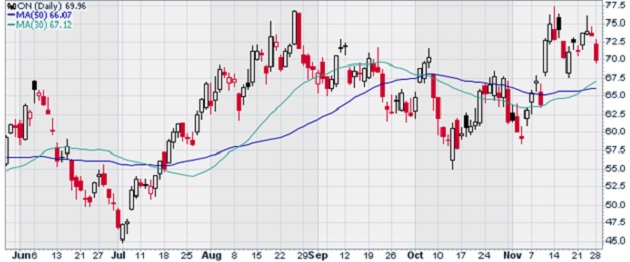 Source: StockCharts
At the time of writing, ON is trading within 5% of its all-time highs. It's also trading above its 30-week and 50-week moving averages, both of which are rising. So, it's still very much in a long-term uptrend. Watch these stocks. If they continue to show strength, I'll consider buying.
3 Breakthrough Stocks Set to Double Your Money in 2022
Get our latest report where we reveal our three favorite stocks that can hand you 100% gains as they disrupt whole industries. Get your free copy here.