Loyalty is a critical element of the advisor-client relationship. If a client is loyal, he or she is more likely to increase the amount of assets their advisor can manage. If a client is loyal, advisor don't need to worry about that client leaving. If a client is loyal, they are more likely to make a referral to the advisor, ultimately increasing the advisor's business.
Are investors loyal to their financial advisors? Are there specific types of advisors that are more likely to generate greater loyalty than others?
Spectrem asked investors to define their loyalty to various providers within their lives and then asked them about their loyalty to their advisor. Ultimately they were asked about various providers they used and to define their overall loyalty to that advisor. The answers provided some important findings.
When investors were asked about their loyalty to non-financial providers, the answers varied significantly. Respondents were asked to rate their level of loyalty on a 0-100 scale with 0 being "not loyal" and 100 being "very loyal". Airlines, grocery stores, automobile brands and credit card providers all rated on the 60's. Department stores and household brands (such as Pledge, Tide, etc.) were ranked in the 50's. Physician/Dentist ranked the highest at 79.26.
When investors were asked to rate their loyalty to their financial advisor on a similar scale, the overall rating was similar to the physician/dentist rating coming in at 79.00. This rating varied by many factors. Younger investors were slightly less loyal than older investors with Millennials and Gen Xers rating their loyalty in the low 70's and Baby Boomers and WWII investors rating their advisor loyalty above 80.
Investors were asked to identify the types of advisors they currently use and then to rate the level of loyalty they have to that particular advisor. Many investors may have had several advisors (i.e. an accountant, attorney and a broker) but most had only one financial advisor. As you can see below, accountants were the type of advisor that generates the highest level of loyalty. Full service brokers, independent financial planners, and RIAs all scored over an 80. Robo-advisors scored only 62.63.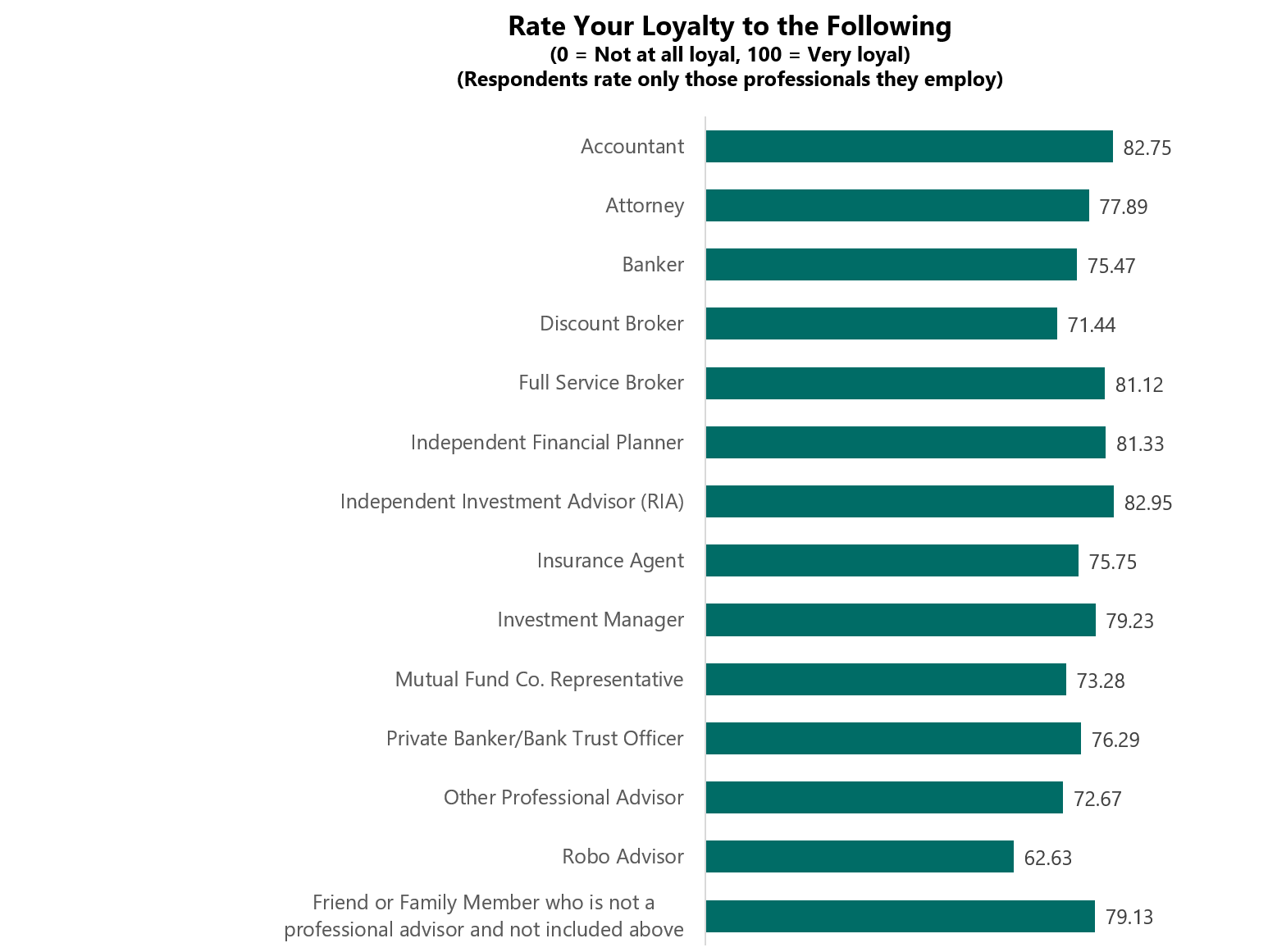 Why are investors more loyal to some types of advisors than others? It may be because of the level of personalization involved in the relationship as well as the difficulty involved in sharing all of the financial information. Once a financial plan has been set up, and links to multiple accounts and service providers is established, it's easy to rely upon that individual because they know a lot about the client. In contrast, insurance agents, mutual fund representative and discount brokers generally have more transactional rather than holistic relationships with clients. In recent years, full service brokers and RIAs have proactively worked with clients to establish financial plans, thus ultimately increasing the sense of loyalty within the relationship.
Those investors who are loyal to their advisor generally have at least 66% of their assets with their advisor. Taking the time to deepen the relationship and create greater loyalty with clients will have positive results for financial advisors.