A popular movie released in 2006 features a man who is in his mid-30s and is perfectly happy living with his parents. He hasn't taken on the typical responsibilities of adulthood and "launched" his life completely. His parents resort to hiring a women to help him leave their home and live on his own completely. This idea of adult children still living with their parents or at least relying upon them for financial assistance is not a new concept. Parents and children have been struggling with just how much help is too much, and at what point do the financial responsibilities need to be on the child for many years. Women can differ from men in significant ways regarding these topics, leading to a difference of opinion among parents as well.
There are significant differences among investors as to what types of life expenses should be paid for by the child or the parent. A child being able to afford some of their own expense would require that they work. According to a recent study completed by Spectrem group with wealthy women, most women feel it is very important for teenagers to work, including working during high school and college. When asked to rate the concept of working during high school and college being important on a 0-100 scale, with 0 being do not agree, and 100 being very much agree, wealthy women rate this idea at an 80.79. That number goes down among younger women and among wealthier women. It is possible that wealthier women do not see the need.
Even if children do not have a job, the topic of finances and personal financial responsibility often comes when it is time to discuss college expenses. Spectrem also asked wealthy women on that same 0-100 scale about if a college student should financial most of his/her education or be responsible for paying back student loans and that statement was rated a 66.09, leaning more to agree but not nearly as strong as working. Interestingly, women who have children still living at home are far less likely to agree that children should be responsible for their educational costs, rating this just over the mid-point at 55.71. It is possible that these parents have not yet faced the conversation of college costs or gone through that process.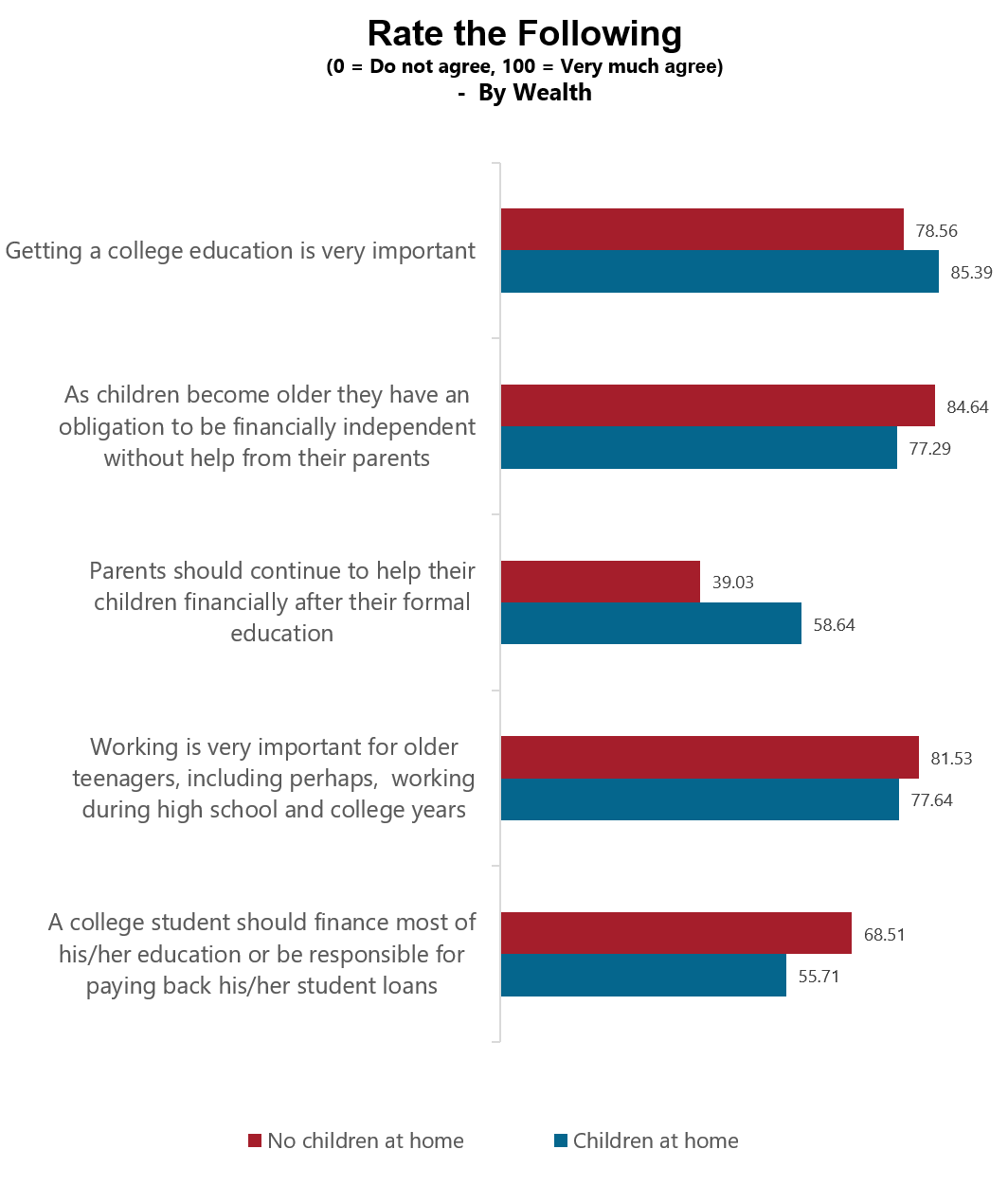 When college is completed, is that the end of financial obligation for parents? Fifty-nine percent of wealthy women believe that children should no longer rely upon their parents once they complete college or technical school. That percentage jumps up to 70 percent among women under the age of 50. Fifteen percent of wealthy women feel there is just a certain age that a child will reach when they no longer should rely financially upon their parents. Another 13 percent believe that the financial obligation of parents is not removed until after graduate school is completed.
Regardless of gender or wealth, parents ultimately want to see their adult children mature and take personal responsibility. It is helpful to discuss these topics with your children long before they become adults, so they understand what the expectations are. If this is a challenging conversation, often it is made easier by having a financial professional have a discussion with the child, offering some financial education and planning.
Related: Non-Traditional Income Producing Activities Have Increased During the Pandemic