After the quarantine, many people were eager to get their hair cut, go out to restaurants, go shopping and see friends. Other individuals remain very isolated out of concern regarding this virus either for themselves or for a loved one. One topic that is equally as important, if not more so, as hair is an individual's financial health.
During the first few months of the pandemic investors were speaking with their financial professionals more. According to Spectrem Group research in May of 2020, only 16 percent of investors had not communicated with their advisor since the start of the pandemic. Over a quarter of investors had communicated with their advisor 4 or more times since the start of the pandemic. Among those individuals who spoke with their advisor at least 4 times, nearly two-thirds of them were more impressed with their advisor as a result of the advisor's reaction to the pandemic. Two-thirds of this communication was done on the phone, and just over a quarter was done through email. Now that individuals are not quarantined, how are interactions taking place, and how are they likely to take place in the future?
Investors have made some behavioral changes in the past 6 months, with over a quarter of investors increasing their use of bank apps and nearly a quarter starting to use the drive-up features of their bank branch. Seventeen percent of investors have communicated with their advisor through text messages and 18 percent have utilized a video calling platform. Forty-four percent of investors are willing to try using a video calling platform to communicate with their advisor, and a third are willing to text message their financial advisor.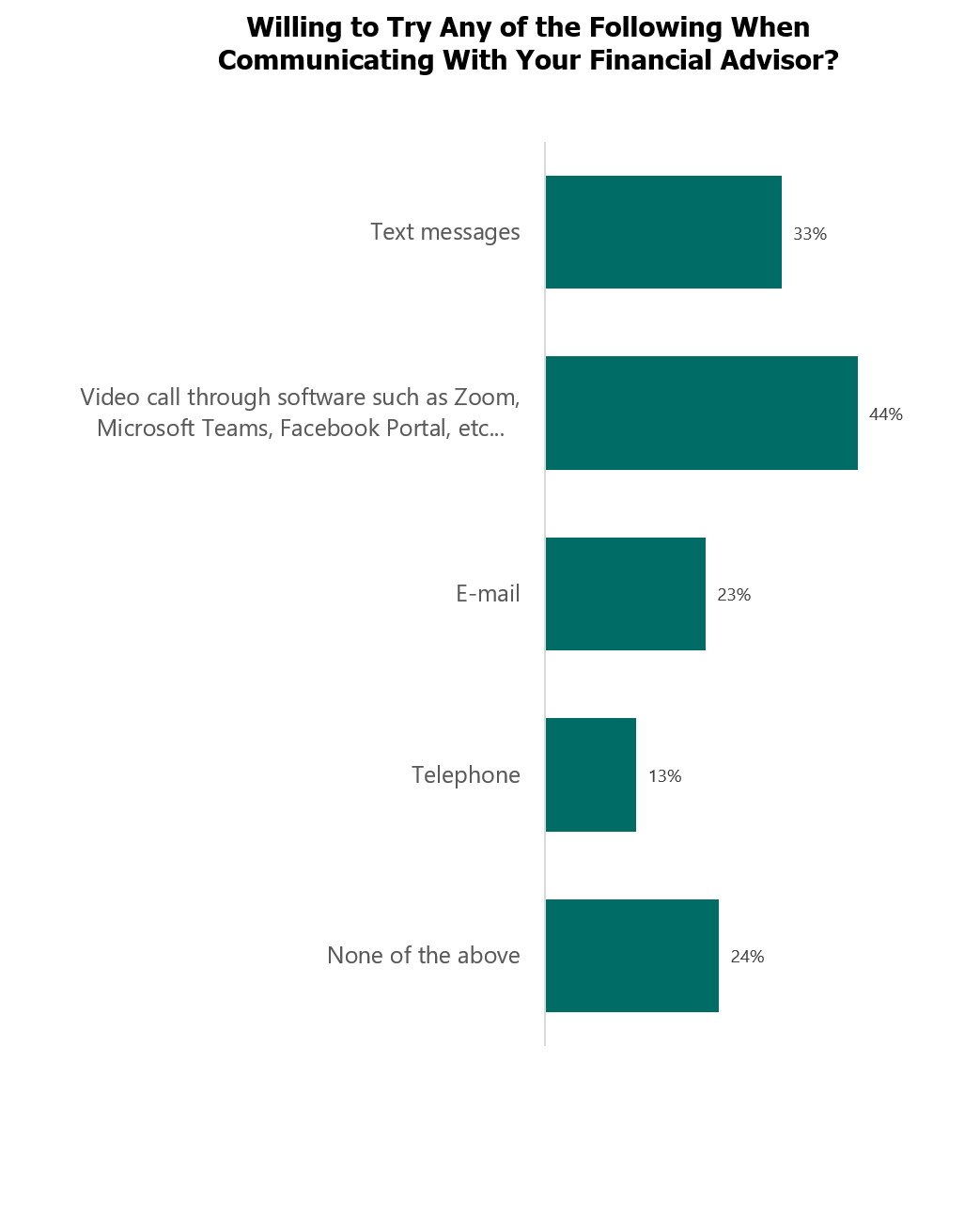 Going forward, over half of investors anticipate going to their advisor's office for meetings. A third of investors expect those meetings to continue being virtual. For those people who expect to meet in person, over half want their advisor to wear a mask during the meeting. However, over half of investors would prefer to do all of their financial transaction and meetings without interacting in person if possible.
Regardless of what type of approach you would like to take regarding interactions with your financial provider, these changes are likely to be here for quite some time and it is important to find the method and platform of communication that works best for you, and ensure that your financial provider can deliver on that communication expectation.
Related: Are Investors Using Social Media for Financial Purposes?