With the Thanksgiving holiday here, many investors are ruminating about what they are thankful for.
Some investors may find it challenging due to the market volatility and economic shutdown that occurred in the spring of 2020, as it had a significant impact on investors and households across the U.S., both economically and emotionally. More optimistically however, months later the markets have rebounded, yet the economy is still slow to recover especially for business owners of all types. So how are wealthy investors feeling about their own financial recovery several months after the crash in March of 2020? Overall, 58% of investors believe that their financial situation today is the same as at the start of the pandemic. This feeling varies dramatically, however, based upon net worth.
Sixty-one percent of households with $100,000 to $499,999 of net worth indicate their finances are the same as before the onset of the pandemic, and 68% of those with $500,000 to $1,000,000 feel similarly. (Spectrem defines the Mass Affluent as households with $100,000 to $1,000,000 in net worth, not including the value of their primary residence.) In contrast, only 35% of those with $15 to $25 million of net worth agree. Almost half of those with a higher net worth indicate that they are still worse off financially than at the onset of the pandemic.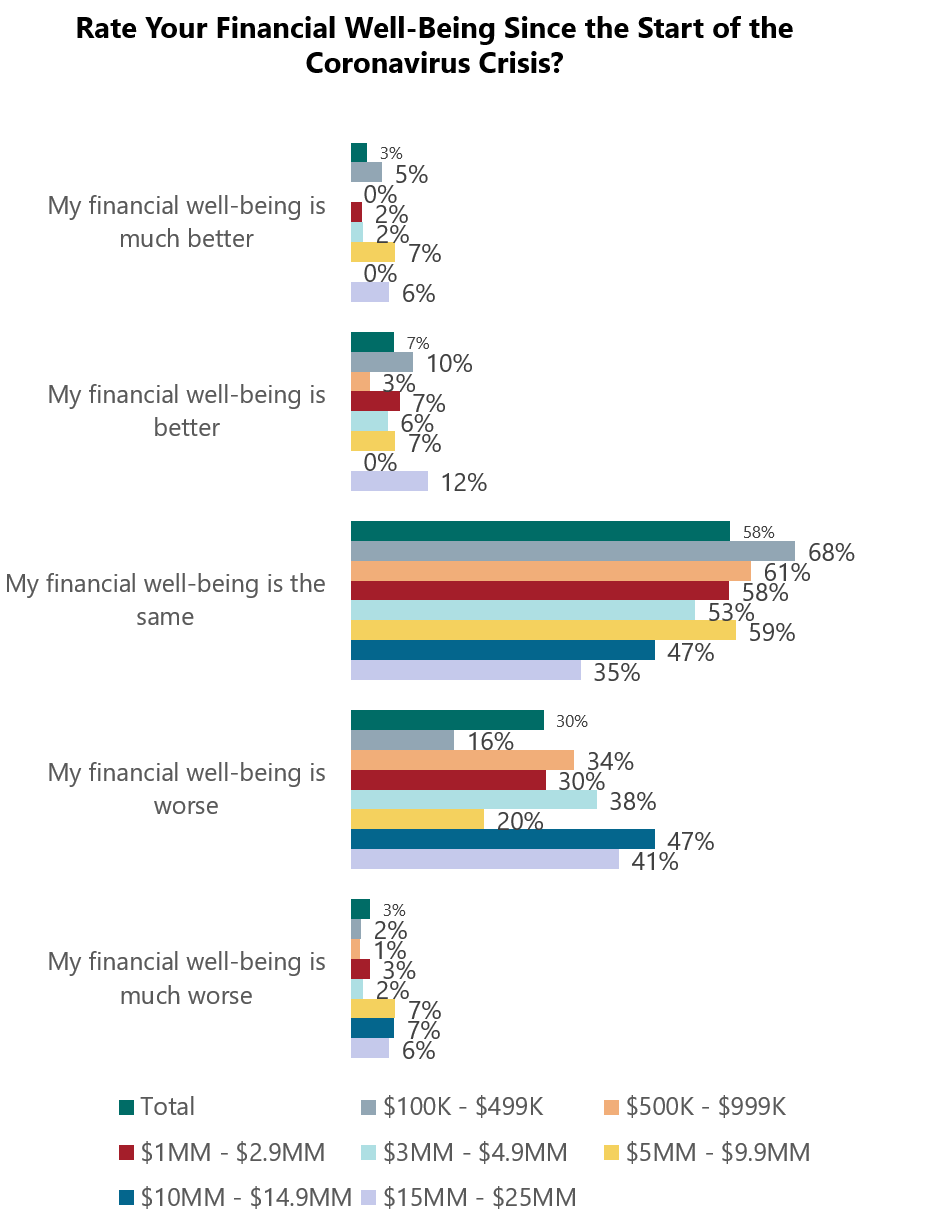 Why are the wealthy experiencing a more significant impact?
More retired investors on fixed incomes fall into the Mass Affluent segment. While they may have initially been impacted by the market crash, many have recovered. Since they were not likely to have lost a job, the pandemic has been more likely to create fear than actual loss, allowing these investors to be in the same financial situation as prior to the pandemic.

Wealthier investors were more likely to have switched their asset allocation or they may have been invested in assets that are slower to recover. The wealthiest households may have lost more initially and may find that some of those investments are slower to recover to their pre-pandemic values.

Business owners are still suffering more than other investors. Business owners often fall into the wealthier segments and, as many know, small businesses have been slow to recover due to ongoing shutdowns in various states.
Even though the Mass Affluent may feel as if they have recovered, they still have many fears and concerns that financial advisors need to address. The Mass Affluent generally includes the bookends of generations, the younger households as well as older retired households. These types of individuals are critical to many financial institutions, and as a result need to be focused on regarding pandemic recovery. It is this time of Thanksgiving that financial professionals need to be among the things that their clients are thankful for.
Related: How Many Advisors Do You Need If You're Really Rich?