The results are in, let's take a look at where we are with digital marketing today.
After all, you business is spending a whole load of money on it and you will want to know where it's going. Will it enable you to fill that pipeline gap?
Digital Advertising
Just had a fascinating conversation with a Martin Lucas for an up and coming TimTalk and the following figures are engagement rates for digital advertising.
1.61% Facebook
1.91% Google
0.35% Programmatic (this is where ads follow you around when you browse)
That means that digital advertising has a 98.81% failure rate and based on the amount of money that is spent on digital advertising, that means that $265 Billion is wasted on advertising every year.
Email Marketing
According to Hubspot, the response rate to emails fell to a record low of 2.1% in April. Said differently, 98% of our efforts to reach new prospects failed.
Conferences
It would seem that conferences will be off for the foreseeable future. Have you read about how the conference run by Biogen became a super spreader.
The official count of those sickened — 99, including employees and their contacts, according to the Massachusetts Department of Public Health — includes only those who live in that state. The true number across the United States is certainly higher. The first two cases in Indiana were Biogen executives. So was the first known case in Tennessee, and six of the earliest cases in North Carolina.
No business is going to put their reputation on the line, certainly in 2020 and all of the pointers are showing that it will be the same in 2021.
It's Depressing I Know - But There is Good News
Let's be honest here, we are all tired of the endless interruptions.
I've just had a company add me to their email list. Really? Is this the high water mark of marketing in 2020?
We Have Transformed In Work and Play on Social Through The Pandemic
In this report by Simon Kemp he outlines the extent that social media has become part of our lives.
Linkedin have just announced there are now 706 million people on Linkedin. But what does this mean for us in marketing?
Back to Simon Kemp's research
Social media users have grown by more than 10 percent over the past year, taking the global total to 3.96 billion by the start of July 2020.
This means that – for the first time – more than half of the world's population now uses social media, with more people using social media than not.
In fact Simon Kemp stated recently that 4 out of 10 of the global social media users, use social media for work related purposes.
What's more, the pace of growth appears to have accelerated in recent months, despite the global total having already passed the halfway mark.
Then There Was Covid19
Lenin said — 'There are decades where nothing happens; and there are weeks where decades happen.'
Covid19 has made a massive impact to this transition as the whole world has been forced to stay at home for months on end.
As the CEO of a global company, I've been amazed at how different parts of the world have been hit, exactly the same. Having calls with India, US, Peru, Singapore, Europe, etc, etc. The position is the same "we are on lock down, and we cannot go out". Many of us are starting to see us gradually come out of lock down and Simon Kemp says in his report
"Lockdowns may have been lifted across many countries, but many of the new digital behaviours that people adopted during confinement have endured, resulting in meaningful increases in various kinds of digital activity."
Lock down as accelerated so many things, whereas once we were told things HAD to happen face-to-face, all of a sudden it was not the case.
The New Normal is Digital
So when Stéphanie Genin, vice president of global enterprise marketing at social media management firm Hootsuite said this, I wasn't surprised, are you?
"After weeks of adapting to Zoom parties, video appointments with doctors, online schooling, social distancing and tapping into social media for virtually everything, will people be happy to go back to their old ways of working and engaging with each other?"
She then goes on to ask.
"The answer will be no. Social media has been holding communities together and organisations will need to assess how to manage the new normal."
Covid19 Has Changed How People Buy
People Buy Using Social Media
Simon Kemp says ... it's essential that marketers think more broadly about how audiences and consumers might want to discover and learn about their brands, and in particular, how they can weave search-friendly elements into their social media activities.
As a B2B Business What Social Media Platform Should we Be on?
In a recent article by University of Edinburgh, Ewelina Lacka is a lecturer in Digital Marketing and Analytics she said about their research
"What the decision-makers made clear to us was that the most significant influence on their commitment to a supplier was its presence on LinkedIn. This may be explained by the purpose of LinkedIn, which offers a closer bond than the one-way relationship often found on Twitter and Facebook. The expectation of a supplier having a presence on LinkedIn may also offer a sense of security and transparency."
What Does This All Mean for Sales and Marketing?
This means for sales and marketing that Social Media usage and Social Selling is not a fad and it's not going away.
In fact a company's presence on social is now a business imperative.
Simon Kemp's research..
"Given the broadening role of social media in people's lives, it's important that marketers and communicators think more broadly about where social media fits in their plans.
Critically, social media is increasingly a 'layer' that permeates almost every aspect of our audiences' daily lives, rather than being a distinct 'destination' with a more siloed sphere of influence.
The trick to making the most of social media today is to understand how these platforms can complement and augment all of our marketing and communication activities.
My advice would be to think less about populating a content calendar, and focus more on identifying and initiating the conversations that matter most to you and the audiences that you care about.
Now Let's Talk About Your Current Pipeline Hole
You want pipeline to fill that massive hole, the answer is very simple. It isn't going to happen with advertising, email marketing and conferences.
Now is the time to switch your marketing and budget to social, but not as a "random act of social" but with a data driven sales methodology. What do I mean?
Social Selling That Gets Results
Most people think that "social selling" is posting and hoping. You post on social media and get your directs to like that post and somehow this is going to transform your pipeline, it wont.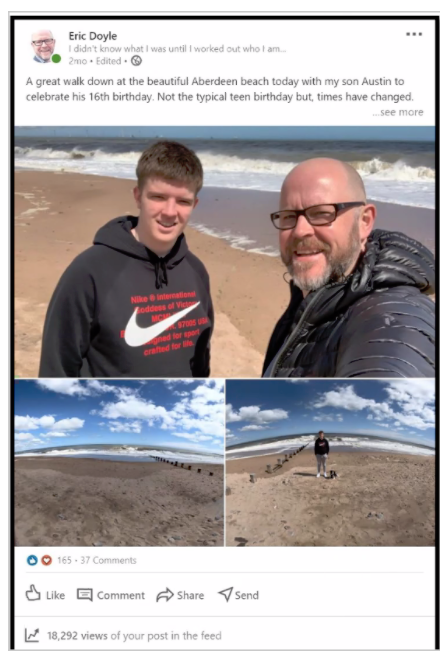 Let's take an example.
Eric Doyle, he's a partner of ours. He posted a piece of content, it currently has 165 likes and 37 comments and has been viewed 18,292 times.
It's created for him 124 leads.
28 outbound connections.
13 new inbound connections.
6 meetings (1 CEO, 1 COO, 2 MDs, 2 FDs)
1 Proposal
All from 10 minutes of work, all for free!
DLA Ignite have a methodology that support your current sales process. We can coach you so you can leave email marketing behind and go where your prospects and clients are, on social.
From pipeline generation, to accelerating deals through the pipeline, to closing deals with social. Our methodology is there to support you. No random acts of social, a structure and a known result.
We have been helping business social / digital / remote / virtual sell now for over 4 years. We also have a team throughout the world, that can support you, wherever you are and whatever language you want to work in
It's time to walk away from the email zero sum game and support the sales and marketing program of the modern world.
Where Do We Go From Here?
For those unsure of what to do, DLA Ignite will complete a review of your current social / digital / virtual / remote selling capability. For free.
We will take your team (up top 10) and perform a complete root and branch Social Media Performance Assessment.
Sales, Marketing, Management, Technical, HR. Procurement ....whoever you want to include.
This will include: Profiles, connections, followers, inbound and outbound activity, content, engagement, follow up, results.
(Happy to provide the list of deliverables).
We will map your business against the DLA Ignite baseline and present back to you our findings. We will show you where improvements can be made and what results should be expected. No hard sell, just present back to you a road map. You entered lock down analogue, this is your chance to leave this pandemic, digital.
Please contact me here or one of the DLA Ignite team here, so please pick one of our industry experts or one of our experts in your geographical locality. Our website is here.
Related: All We Need Right Now is Pipeline, Pipeline, Pipeline