Written by: Gabriela Santos
International equities are down -13.6% year-to-date (in U.S. dollars), with multiple contraction and weaker currencies dragging on returns, as investors price in higher rates and more uncertainty about fundamentals. The path ahead is still uncertain, especially for Europe given the ongoing electricity price shock, as well as China given its bumpy transition away from "Zero COVID"; however, valuations and currencies now better reflect investors' gloominess. As seen in November, when depressed valuations and low positioning meet "less bad" news, a powerful rally can occur. However, for investors to capture the rebound, they need to be invested to begin with. A substantial underweight to the asset class suggests ample room to position portfolios for what's ahead versus what's behind us.
This year, international equity multiples have contracted 14 percentage points, leaving its forward price-to-earnings ratio sitting 10% below the 25-year average. This compares to U.S. valuations now 3% above its long-run average. In addition, currencies have weakened 7% versus the U.S. dollar, leaving many near multi-decade lows. Said another way, the U.S. dollar is nearly the most expensive in 40 years. These starting points suggest that international markets offer more of an uncertainty premium than U.S. markets do – and already offer a substantial discount for the uncertainties ahead, such as a recession in Europe and a bumpy path out of "Zero COVID" for China.
As previously argued, when sentiment is so gloomy, markets are left vulnerable to more favorable news. Recently, the situation overseas has started to look less dire than investors originally thought, with natural gas storage levels in Europe nearly full going into (a so far mild) winter. The conclusion of China's National Party Congress led to more pragmatic measures around COVID, real estate, and China's relationship with the rest of the world. While the 2023 outlook is still uncertain, "less bad" news helps to reduce uncertainty when a lot of negativity has already been priced into multiples and currencies.
In November, international equities were up 11.8% (+7.8% in local currency plus 3.9% currency appreciation). This represented an outperformance of 620bps versus U.S. equities– now leaving international equities outperforming the U.S. year-to-date. It is key for investors to realize that there will never be a perfect time to invest in international equities. Instead, today provides a historically attractive entry point for investors to lessen their deep underweights1 to international equities in order to not be caught offsides for what's ahead.
Multiple contraction and currency weakness has dragged on international returns
Year-to-date, total return, U.S. dollars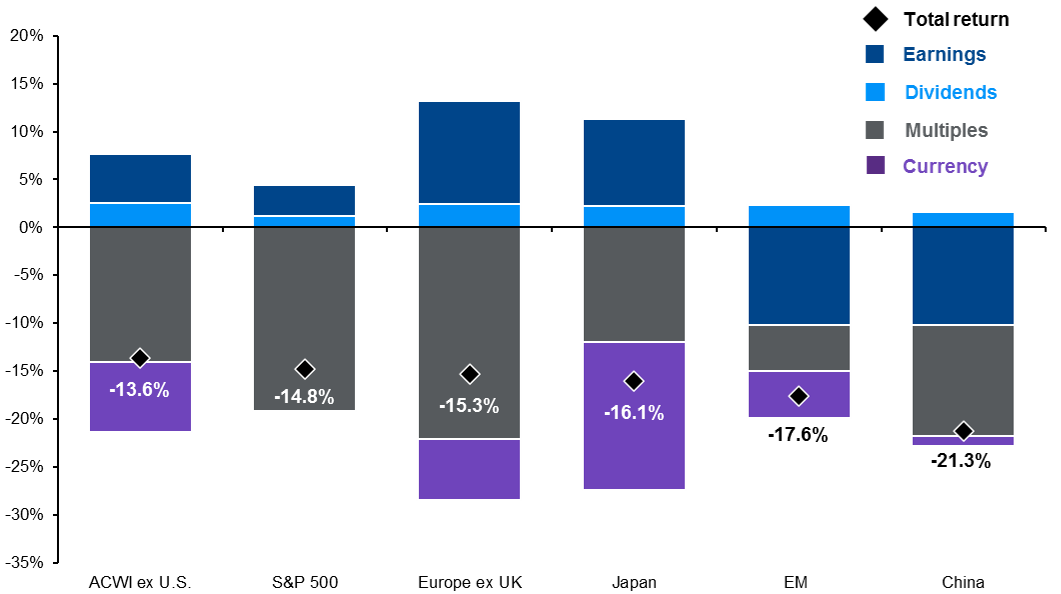 Source: FactSet, MSCI, Standard & Poor's, J.P. Morgan Asset Management.
All return values are MSCI Gross Index (official) data. Multiple expansion is based on the forward P/E ratio, and EPS growth outlook is based on NTMA earnings estimates.
Chart is for illustrative purposes only. Past performance is not indicative of future results.
Data are as of December 7, 2022.