As you start 2021 you need a plan.
2020 was nuts and although we're told the cavalry is coming and we're hoping for a breakthrough with Coronavirus this year, we might also be in for another 6-12 months of "this is how life is right now".
Short-term decisions sometimes yield short-term results. However, if there's one thing I've learned in my career, the fastest route to success is by taking the right decisions for the long-term. That's how you create value.
So here's a simple framework to get your thinking right as you start 2021.
At FP Advance we focus on the "half a dozen things"; an expression taken from Jim Rohn an American author and motivational speaker (sadly, he passed away in 2009).
Rohn said, "There are only about a half dozen things that make 80% of the difference in any area of our lives."
His advice is to focus on those half a dozen things if you want to succeed.
In creating your ideal financial planning business, here they are: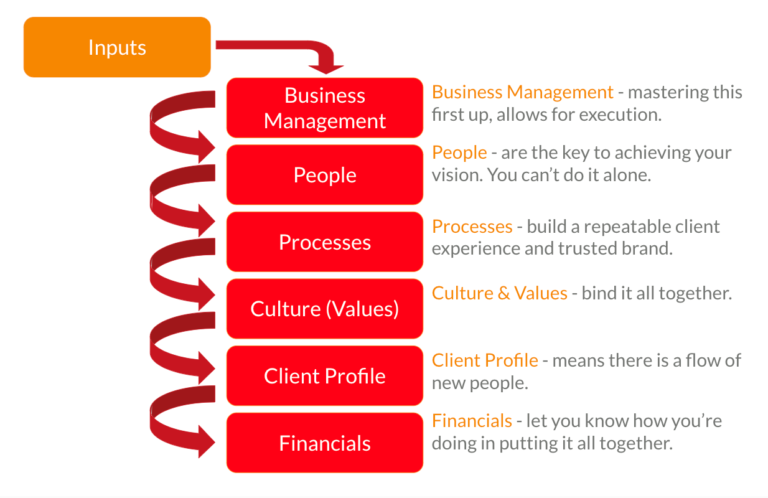 What does your perfect business look like?
It's vital to have as clear a vision as you can of where you're headed. The start of the year is the perfect time to revisit that vision.
Write down what your business would look like if it was generating 5x or 10x your current level of revenue:
What does the team look like to support that?
What does your marketing look like?
How many hours per week and weeks per year are you working?
How do you get there?
Once you've got an idea of what you're trying to build you need a roadmap for getting there and this is where it's easy to get stuck.
This is where the half a dozen things can be helpful.
All of these areas will need to be developed over time. However, you don't need to be trying to attack them all at once.
The Paradoxes Of Business Building
In Dare To Lead by Brene Brown (which I highly recommend), she references Dheeraj Pandy, CEO and Chairman of Nutanix. Dheeraj explains that to be a successful owner or entrepreneur you need to be able to "hold the tension of the paradoxes that are inherent in entrepreneurship."
Paradoxes like:
Optimism and paranoia
Letting chaos reign (the act of building) and reining in chaos (the act of scaling)
Big heart and tough decision making
Humility and fierce resolve
Velocity and quality when building new things
Left brain and right brain
Simplicity and choice
Thinking global, acting local
Ambition and attention to detail
Thinking big but starting small
Short-term and long-term
Marathons and sprints
Source: Dare To Lead by Brene Brown, p169

These paradoxes are confusing and not easy to resolve. Dheeraj goes on to say, "Leaders must learn the skills to hold these tensions and get adept at balancing on the tightrope of life. Ultimately, leadership is the ability to thrive in the ambiguity of paradoxes and opposites."
Can you sit with this stuff while it's messy and difficult?
How to get started
By working on the half a dozen things, you can slowly bring your business into the shape that you want, but it's a journey, not a quick fix.
Watch out for the snake oil salespeople. They offer quick and easy solutions, but the solutions don't work. There's no quick fix.
There's just persistence and consistency of effort.
There's just a focus on daily improvement.
There's a focus on improving YOU. That's the place to start. As you get better, so will your business.
1. Start with re-visiting your vision; what are you trying to create when it's all said and done? (If you want some help with that, check out my free webinar, The Power In Your Purpose)
2. Then evaluate where you are now in relation to the half a dozen things. Don't overcomplicate it, just give yourself a score out of 10 for each one:
| | |
| --- | --- |
| Area | Score/10 |
| Business Management | _____ |
| People | _____ |
| Processes | _____ |
| Culture (Values) | _____ |
| Client Profile | _____ |
| Financials | _____ |
3. And then choose one area and start working on improving that part of your business. It's amazing how fixing just one small part of the whole often unleashes payback you weren't expecting in other areas of the business.
A Tip: Don't work on two or more at once. One at a time is best.
Slowly but surely, you can build a business on rock solid foundations that will stand the test of time.
Let me know how you go.
Related: What Do Great Financial Advisors Do?