Risk is a critical part of every decision. And, frankly, I think we all need more of it. We tend to think of risk as a taboo concept and it's really not—once you understand it.
In order to benefit from risk, you need to define what risk is to you. Some people view risk as the "potential for harm or hazard" (think bungee jumping). I view risk as an "uncertain circumstance in which one manages to maximize the gains." But, how do you maximize the probability of success?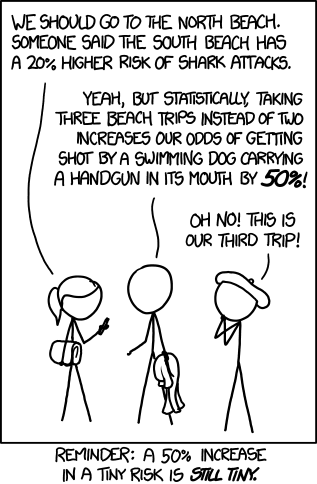 Here are some key parameters that affect risk-based decisions:
Consider conditions. For example, you have almost certain probability that, in general, October will be cooler than September. However, forecasting a certain day adds risk and uncertainty.
Reduce risk where you can to allow even more risk in other areas. For example, more analytics in sports is creating opportunities to assess strengths/weaknesses and create new winning strategies. It has enabled athletes to take more three-point shots, hit more home runs and longer golf drives, and score more touchdowns. Similarly, surfers used to ride 29-30 waves and now they are comfortable in 50 to 80-foot waves. Jet Ski rescues, inflatable vests, and leashes are among the tools that reduce uncertainty and increase potential.
Know the value and probability of the reward. Winning the lottery has an extremely high reward, but also has low probability. Purchasing investment bonds has lower return than buying stocks, but the risk and volatility of buying stocks is higher.
Value is also affected by the law of diminishing returns, which states that: as the input or value increases, the incremental changes become less important. It is easily summarized by the old saying, "Too many cooks spoil the broth." Other examples include adding superfluous benefits to an offer, endless presentations, annoying excessive service, or just making the reward dramatically above what is needed or desired. Let's say you love pie, but only have it once in a while as a treat. In this instance, the value is higher. But, if you eat it every day, it becomes less special and the value decreases. The same goes for a visit with your in-laws: Once a month is good, one a week might be less good, and every day might really be pushing it…
Understand the perceived importance of the reward. People generally regret losses more than they appreciate gains—and that is a key factor to consider when making any decision. When choosing a college to attend, decisions depend on area of course study, school size, location, tuition, the school's reputation, etc. Are some of these factors more important than others? It varies depending on the individual.
The benefits from risk are a result of integrating the above examples to maximize results. Let's look at the game of craps as an example: When you roll two dice, there is over a 40% probability you will roll a 6, 7, or 8 and about a 6% probability you will roll a 2 or a 12. So, if you're placing a bet, knowing the odds (i.e. the probability of the reward) will reduce the risk. Betting is based on your willingness to risk in order to earn higher or lower rewards. The most forgotten aspect of craps (and all betting, for that matter) is that, over the long run, the house wins which is why casinos are so profitable.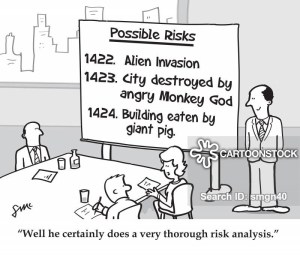 Key factors to consider to increase the benefits from risk:
Understand all the information. Knowing background, probabilities, and parameters can greatly enhance outcomes. For instance, investment decisions are greatly influenced by history and trends. However, because there is so much change due to the pandemic, the risk is now more volatile and opportunistic. Knowing the circumstances around your decisions is key.
Psychology. Assessing risk has a number of psychological constraints: a) People tend to take more risks to win back losses and less risks to follow up on winnings. b) Marketers love to push fear. When you are buying a car, appliance etc., they push its safety, reliability, and excellence. After you commit, they try selling a warranty. They induce fear by citing all the things that can go wrong. c) We overestimate our skills and luck. Tons of profits are made at casinos and in sports betting based on countless people believing that they can beat the odds.
Think about your decisions and the outcomes. We often perceive decisions as win-lose situations where one-party wins and another loses, but there are different types of decisions. Changing that mentality to "win-win" can have dramatic benefits and we tend to underestimate the opportunities we have to achieve this. For example, who would have believed decades ago that the mergers of Vietnam and Germany would be so successful? So, when making a choice, brainstorm ways to maximize benefits all around.
Rethink your strategy: Zero sum game versus non zero-sum game. Which are you employing? The best negotiations result in both parties winning. This takes collaboration, assessing varying (or even opposing) goals, and increasing the metaphorical "pie." In particular, try to understand what is important and unimportant for each party involved. For example, many traditional retailers viewed online shopping as a liability in terms of disrupting their regular business. Now, they're viewing it as a savior, recognizing it's a safe and effective way to meet the needs of their consumers.
Risk mitigation. The best, simplest, inexpensive, and most effective way to mitigate risk is to gather more information. The more you know about making a decision, the less risk it will involve. Other tools include: insurance, diversification, and leverage. One of the challenges of mitigation is that people often use it to take even more risk and that defeats the purpose.
Listen to your gut. Sometimes you just have to ignore some of the information and go for it. We tend to overthink things or we let fear stop us from taking risks, but there is no gain without trying and no reward without risk. If your intuition is telling you something, it's usually worth listening.

Risk needs to managed rather than feared. Understanding the risk, the rewards, and the importance of each can help you improve outcomes. Don't allow fear, uncertainty, or tradition to lower your potential and prevent you from trying something new. Only those who dare to risk going too far can find out how far one can go.