I wonder if I actually remember the time before Covid19, things have changed so much?
As leaders we have been through what's called a "learning curve". 12 months ago I had never heard of the word "furlough", our accountant has spent most of the year working on furlough claims for his clients.
We have a vaccine but nobody knows how long it will last for and in the UK it will only be rolled out to the over 50s. The Chief Medical Officer here in the UK, said only two days ago is that he expects there to be a lockdown in Autumn 2021, (yes, 2021) what with the new variant strain of Covid in the UK and the new one in South Africa. Whatever the answer, as business leaders, we have to ready the business for the choppy waters ahead.
As this article states
"We're (CEOs) prepared for, even expecting, a W-shaped economic recovery. But having a contingency plan and forging ahead are not mutually exclusive. Whether your organization has stabilized, is back in growth mode, or is barely surviving, you need to solidify your strategy for 2021."
I was talking to a business leader yesterday and they said "it will never go back to the way it was before", and I agree. There is research from Accenture that states that people don't want to go back to having face-to-face meetings with salespeople. A CEO said to me recently that a salesperson had said to him that he "couldn't sell unless he was face-to-face with a client". If one salesperson is saying that, how many are thinking it?
What Do Business Leaders Need to Do to Support Business Today?
Talking to a CEO's as I do, it is clear that the way we do business, has and must fundamentally change. Let's pick up on each the areas, CEOs outline to me, what needs to change.
Trust
The number one view is that a business needs to be seen as "trustworthy", the consumer, B2B (Business-to-Business) and B2C (Business-to-Consumer) is fickle and will switch supplier.
Trust, while has an element of brand, this is about the people. Can you trust the CEO, the Board of Directors, the sales people?
With your buyers on social media, (see research here) you have to have the CEO, the Board of Directors (the C-Suite), the sales people, in fact the whole of the company on social media. You take the company culture and you put it on social. Why? because this is how your buyers, your future employees, your employees, your customers, see you business. Your company is represented today, not by a website, but what I see from your passive and active social media profiles.
Many companies say to us "our USP (unique selling point) is the culture" or a candidate has to have a "culture fit". Then put your culture on social, be transparent. This is the way, you will get the best people, make the most sales and have the most efficient supply chain. More on these in a moment.
Ethical leadership should be your norm. I know you think you give that now, but you hide your culture in the old fashioned opaque manner. Social media has created transparency, so let's see your culture on social.
This isn't something that "happens", there is a change program driven from the top down, with the leaders, leading. There has to be a methodology that people follow. Social becomes a strategy, not a tactic, which you will have right now.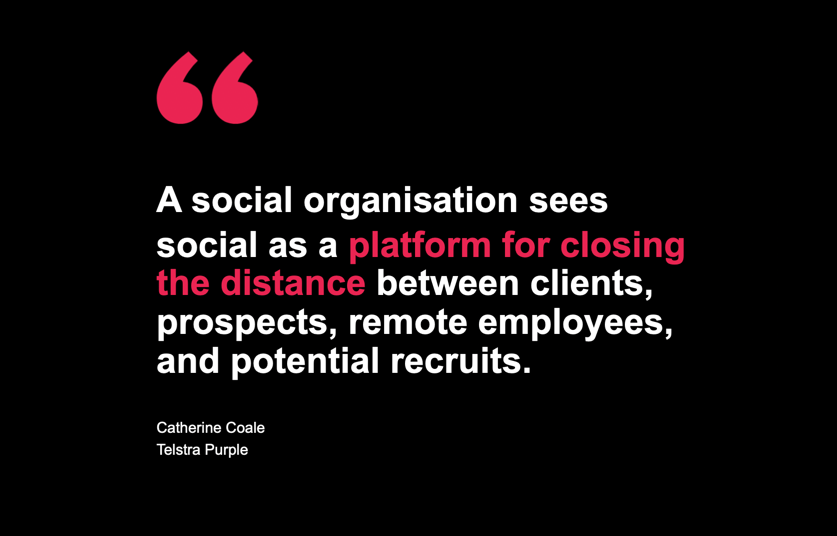 Purpose
Trust dovetails into Purpose, with the employees on social, they are empowered to share their experiences, their beliefs, their values.
For example, Human Resources (HR), could share an article about the importance of Diversity within the business. This is shared through that person's network. Remember, this is not a corporate message this is shared by the employee, through a network that knows, likes and trusts that person. That network will amplify it. Keep doing this and you will become the employer of choice in your industry.
In Purchasing you could share an article about the importance of sustainability for your suppliers. Again, this is putting out a message in the market that offers trust and purpose. Shared through the employees network, people who know, like and trust. Before you know it, you will have suppliers that meet that sustainability criteria.
In the old days you might have used PR (Public Relations) or adverts to do this, nobody reads press releases and nobody looks at adverts, the modern world is digital. When customers and prospects see a corporate message they think "why would I trust anything you say?" When buyers and customers see an article (that is not corporate) from people in their network who they know, like and trust, you have a far better chance they will read and act on the article. Better still, your prospects and customers will share the article through their network. Let's go where your employees, prospective customers, customers and future employees are ... on social.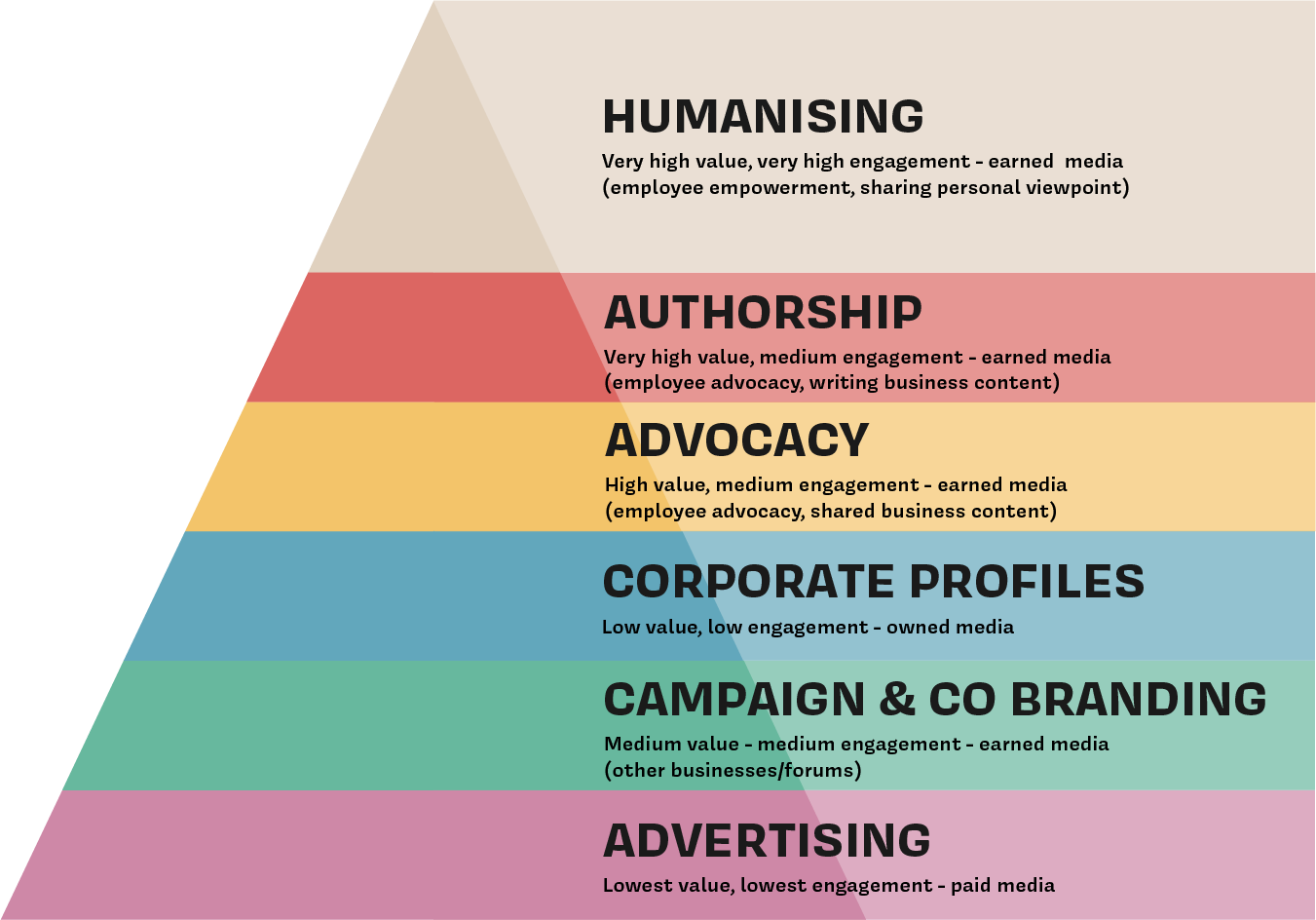 Based on our research, this is our pyramid of content. The content which gets the least engagement (so is liked the least) is at the bottom, the content that gets the most engagement (so is liked the most) is at the top. I don't intend showing examples in this blog, but contact me (or one of the team here at DLA Ignite) and we would be happy to walk you through this research.
Board Skills
Boards still need to have skills such as compliance, regulation, they also need to understand intergenerational differences.
I often ask people if they have ordered a Uber. Uber is such a great metaphor for the digital experience. In 2019 my partner and I spent time in San Francisco we went everywhere by Uber, it is such a frictionless way to do business. From San Francisco, we travelled onto Vancouver. Another great city. It was raining, we were told to stand in a taxi queue, there were no taxis. We thought really? Vancouver don't have an Uber service, when you have to go from frictionless business, by using an app, to having to stand in a line and wait for a taxi (a business with friction) you understand the difference.
With current situation of the pandemic, we are all working from home now and so are our customers. The Board is going to have to get used to "network management" no longer can you open the door of your office and check to see who are at their desks. If you had 3 offices with 1,000 people in each, now you have 3,000 offices.
This has a massive employee welfare and mental health position. We know from research that employees feel neglected, so how do management open new lines of communication? How does you get remote workers, infused, engaged and effective? Through social.
Social will provide your mechanism for communication, connection and collaboration.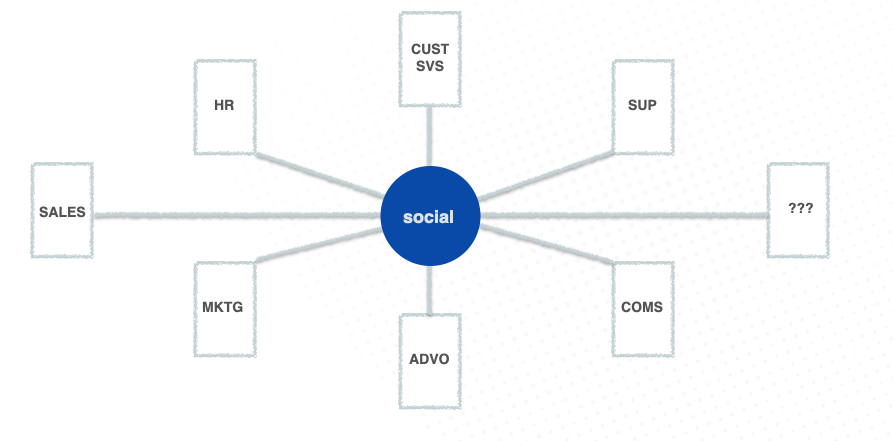 To quote this article "When talent and business strategies aren't aligned, cohesion and engagement will suffer. You'd be forgiven for letting these areas slip over the summer. But getting everyone on the same page is essential to promoting trust and productivity moving into 2021."
Culture
With all this talk about Social media, you have probably realised that is no longer a destination, it's where we live, this is one of the impacts that covid 19 has made on us. We are used to living at home and buying "everything" through the internet.
Again, check out this research.
We spend our lives in social, we communicate through social, it's where we are and it's where our customers are.
In fact our employee expect us to have cultural interplay of social. Sharing, creating, collaborating, sharing with each other.
Here at DLA Ignite we have realised that Zoom and Teams are not fit for purpose for what we want to do in terms of delivering an interactive online experience for clients. The DLA Ignite team have collaborated across the globe and found meetbutter within a day we are having a meeting with the CEO, Jakob. This is a team empowered to make a change, empowered to collaborate, Meetbutter might not be the answer, but it's great watching the team come to the decision.
This is empowered decision making.
Trust in Sales
Recent research from TrustRadius from September 2020 states
"When asked what their marketing pet peeves were, buyers' number one and two responses were marketing emails and sales cold calls. While this isn't exactly surprising (who loves cold calls?), it highlights the growing disconnect between tech marketers and their buyers."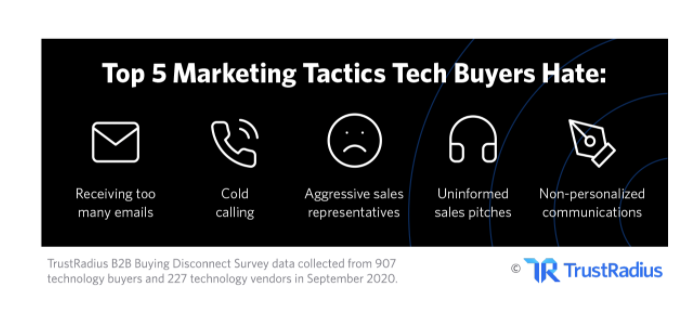 Digging deeper, we asked buyers how likely they would be to respond to these tactics. Unsurprisingly, over 90% of buyers say they are "not likely at all" to respond to non-personalized messages and cold calls."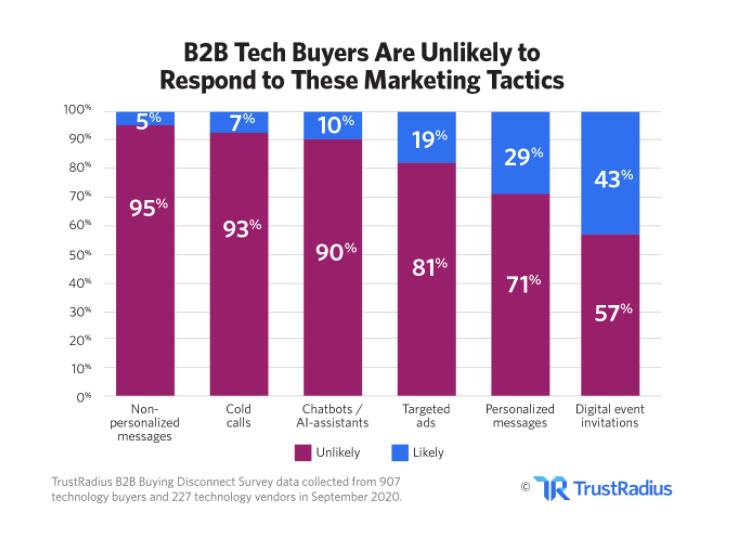 This is pretty damning indictment on current sales and marketing
95% of people ignore emails
93 % of people ignore cold calls
90% of people ignore chatbots
81% of people ignore targeted ads
57% of people ignore notices about online events
In fact all of the research that comes out before the pandemic, and came out during lock down said the same.
If you think this research is a one off, here are some more sources.
Mckinsey, Gartner, Hootsuite and We Are Social, Hubspot, Google, MIT, Trustradius, Twilio .....
Gone are the days were sales was about manipulation.
For starters there is legislation, for example in 2018 Europe introduced GDPR which transformed sales and marketing. Sales has also been impacted by technology which has put an end to endless cold calls. I have the Apple iOS 13 functionality installed that drives all cold calls to my voicemail.
But let's take a step back, has an advert, spam email, cold call, brochure ever sold anything? No. What sells something is a conversation.
Social allows your salesforce to create conversations.
Not in a way where you spam people with sales pitches on social, that is just a cold call on a social network. But connecting to people, know me, like me, trust me.
Sales people are about inspiring, educating, sharing their purpose, culture. We know we have a modern empowered buyer, who is on social media, so let's go out and find them and tell them something they don't know.
Let's start a conversation.
Where Do We Go From Here?
Just give me, or one of the DLA Ignite team and hour of your time and we can walk you through what we are doing for other companies. No hard sell, just take you through what other companies are doing to transform.
Please contact me here or one of the DLA Ignite team here, so please pick one of our industry experts or one of our experts in your geographical locality. Our website is here.
Related: Will Your Business Join the Billions Who Use Social Media To Sell