From October 31- November 12, world leaders from nearly 200 countries will descend upon Glasgow, Scotland to convene for the U.N. Climate Change Conference, or the 26th Conference of Parties (COP26). The last summit in 2015 resulted in the Paris Agreement, an international treaty addressing climate change mitigation (by aiming to limit the increase in global temperatures by 1.5 degrees Celsius above pre-industrial levels), climate adaptation and climate financing. Therefore, we anticipate meaningful discussion on these topics:
Achieving net zero – The three largest global emitters have committed to net zero carbon emissions targets to mitigate climate change. The U.S. has pledged to cut emissions by 50% by 2030 (relative to 2005), Europe has pledged 55% by 2030 (relative to 1990), and China intends to reach peak emissions by 2030 and net zero by 2060. While these are ambitious commitments, they are not nearly ambitious enough. Countries will not only need to recommit to their targets, but to strengthen them as well.
Fiscal efforts – Governments have had varying levels of fiscal progress towards their climate goals. In Europe, the EU's 750 EUR billion Recovery Fund will require 30% of spending to have climate related benefits. However, in the U.S., after months of promising proposals for significant investment, the U.S. joins the conference in a much less optimistic position. Active discussions in Congress suggest a 150 USD billion clean electricity program, aimed at scaling up on renewables and reducing fossil fuels, is in jeopardy. However, roughly 29 states have committed to similar programs, so progress may have to be built from the states up to the national level instead.
Climate financing – Mitigating climate change will be a multi-trillion dollar effort over the next several decades. Although there has been a marked increase in green bond issuance, the energy transition has been woefully underfunded thus far, and greater partnership between the public and private sector is required to have a more meaningful impact.
Carbon pricing – Carbon pricing initiatives are thought to be one of the most efficient and effective means to facilitate the reduction of emissions. There are about 64 initiatives that have been implemented globally, with carbon taxes or emissions trading systems covering 22% of global greenhouse gas emissions. However, to be truly effective, coverage of emissions and industries needs to be increased, and carbon prices need to be much higher. Although carbon taxes or carbon border taxes have been discussed in the U.S., they face significant political hurdles.

A successful COP26 would mean stronger commitments to net zero targets and greater climate financing. As nations make efforts to achieve these goals, it will mobilize trillions of dollars over the next several decades, giving rise to new industries, forcing existing industries to adapt, and creating portfolio opportunities.
Greenhouse gas emissions targets
Billions of tons per year, CO2 equivalent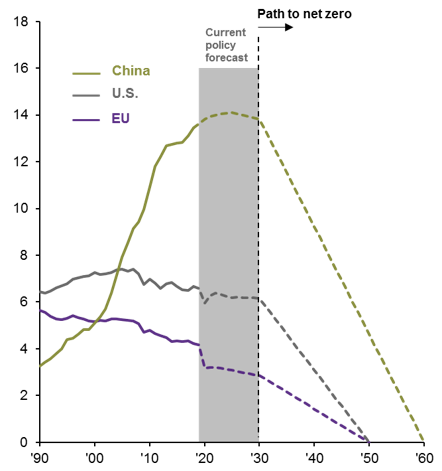 Source: ClimateActionTracker, J.P. Morgan Asset Management. Past performance is not a reliable indicator of current and future results. Forecasts are not a reliable indicator of future performance. Forecasts, projections and other forward-looking statements are based upon current beliefs and expectations. They are for illustrative purposes only and serve as an indication of what may occur. Given the inherent uncertainties and risks associated with forecasts, projections or other forward statements, actual events, results or performance may differ materially from those reflected or contemplated.
Guide to the Markets – U.S. Data are as of October 25, 2021.
Related: Why Are Oil Prices Soaring?