There are many definitions of the term brand. One of my favorites is this: A brand is a promised delivered.
Is what you're known for delivered consistently? Consider Ace Hardware, whose brand promise is The Helpful Hardware Place. When you visit an Ace Hardware store, do they keep their promise? Are they helpful? Based on all their awards and the comments from happy customers posted on social channels, they deliver.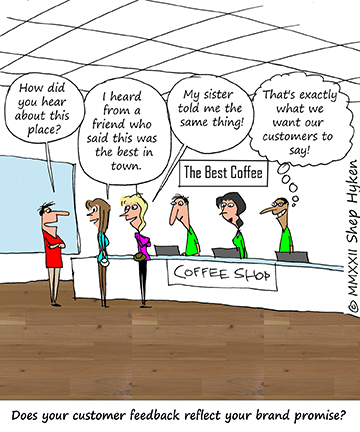 Those comments and awards are what I refer to as The Echo. As you "shout" your brand promise, the feedback you get in return is the echo. And you want that echo to reflect your words.
The only way your customers will say what you want them to say – as in The Echo – is if the experience you deliver aligns with the brand promise. And it's the customer's perception that counts, not yours. So when the customer's perception of your brand is the same as what you want them to experience, you have delivered on your promise.
Consider this. You may or may not remember the Yugo, a Yugoslavian automobile manufacturer that became popular in the U.S. in the 1980s. What attracted people was the price – a very reasonable $3,995. The company marketed the car as "an appliance" for people who wanted a no-frills basic car to get them from point A to Point B.
But it wasn't long before the hype that came from the marketing and advertising fell short. For example, one of Yugo's TV commercials claimed the car "… will defeat competitors. Reliability is its second name. Dependability and safety now have a totally new meaning. … Your dream of a tough, dependable car can finally be fulfilled."
Unfortunately, The Echo was the opposite of what they were promoting. What they promised was something akin to BMW's slogan of The Ultimate Driving Machine. Instead, they became what one author refers to as The ultimate automotive failure.
By the way, BMW's slogan, The Ultimate Driving Machine, is its brand promise and has been since the 1970s. Their story is rich with high levels of luxury and engineering. And most of their customers perfectly echo the brand, as it delivers on its promise.
So, how are you and your company or brand perceived? Do your customers' perceptions of your brand echo yours? Don't answer me here. Ask the question in a room with your employees. See what they say. Then ask your customers. Hopefully, they match … a perfect Echo!
Related: The Best Social Media Channels for Customer Service