Written by: Justine Young
Want someone to set up Google's new GA4 tracking for you? Click here to get in touch with our team for a free website SEO analysis and more information about how we can optimize your site for search.
In marketing, it's easy to look at big, flashy campaigns or catchy slogans and think the entire process was born from a lightning bolt of creative epiphany.
While creativity plays a big role in marketing, it's not the whole picture. Underneath the eye-catching brand colors, unique taglines and cutesy logo, there's data – a lot of data.
There's data for your website, like who's visiting and when and how and where and for what purpose. There's data for your advertisements, like which colors get the most clicks or whether the open- or closed-mouth smile on that Facebook ad landed better closing rates.
One of the easiest and most widely used ways to track your website's performance is through Google Analytics, a free tool that's been around since 2005.
But Google is changing up their analytics tracking – once dubbed "Universal Analytics" – to an entirely new system. Today, we're walking through how you can jump on the analytics train and start gathering your own marketing data through Google's new tracking system: GA4.
If you'd rather leave it to the professionals, we set up GA4 as part of our SEO Optimization package. More info here.
Goodbye, Universal Analytics
Before we dive into GA4, it's important to know a little about its predecessor, Universal Analytics (UA).
Since 2005, Google has offered a free website analytics tracking tool called "Universal Analytics" (UA) that allowed you to measure traffic, bounce rate, clicks and all sorts of other metrics.
But times have changed in the nearly 20 years since UA was introduced. For starters, most people access the internet via mobile devices rather than desktops. Plus, UA was created before apps became one of the main ways businesses connect with their customers.
Rather than try to address these issues in UA, Google is pulling a "google" and killing the old off in favor of a new solution.
While there are plenty of technical details about how UA works, there are only a few basics most advisors need to be aware of to understand the differences between UA and GA4.
UA uses cookies to track user data.

UA focuses on a user "session" – which typically includes the time a user spent on a particular page.

UA was built primarily for desktop traffic.
Oh, and one last important thing: Universal Analytics will metaphorically die on July 1, 2023. That means that if you haven't made the switch to GA4 by July, all data tracking will officially stop. You'll still be able to see past data, but no new info will show up after that.
What does this mean for your firm?
If you've been using UA, it's time to make the switch over to GA4, ASAP. It's fairly quick and easy, and one of the more tech-savvy members of your team (or your kid, niece, nephew, etc.) could probably take care of the basics of the transition in under an hour.
Hello, GA4
GA4 differs from UA primarily in how it tracks, rather than what it tracks. Thus, if you've been tracking certain metrics in UA up until now, you might start getting different results once you switch to GA4.
For example, both systems track the number of users, but in different ways. Check out the table below provided by Google:
GA4 tracks users in three categories: Total users, new users, and active users. UA only tracked total and new users. So in GA4, you might see fewer new users than in the past.
Also keep in mind that GA4 operates heavily on machine learning rather than cookies, unlike UA. GA4 is also built to more easily track mobile devices. The changes will make it easier to collect data on mobile-based users as well as internet users who don't accept cookies.
These differences are just a few samples of the many changes you can expect after switching to GA4. Your user experience and data will be different – and that's okay, but you'll want to take some time to familiarize yourself with the new system. Some of your numbers may seem off at first – there's likely a logical explanation that you'll understand with a little research.
How to Make the Switch From UA to GA4
We're breaking down the process click-by-click – plus, check out this quick video to see how to sign up in real time.
If you'd rather leave it to the pros, we set up GA4 as part of our SEO Optimization package. More info here.
1. LOG INTO UNIVERSAL ANALYTICS
First, you'll want to log into Universal Analytics and go to the "Reports" tab through the left-side drop down menu. Once there, you should see the screen below.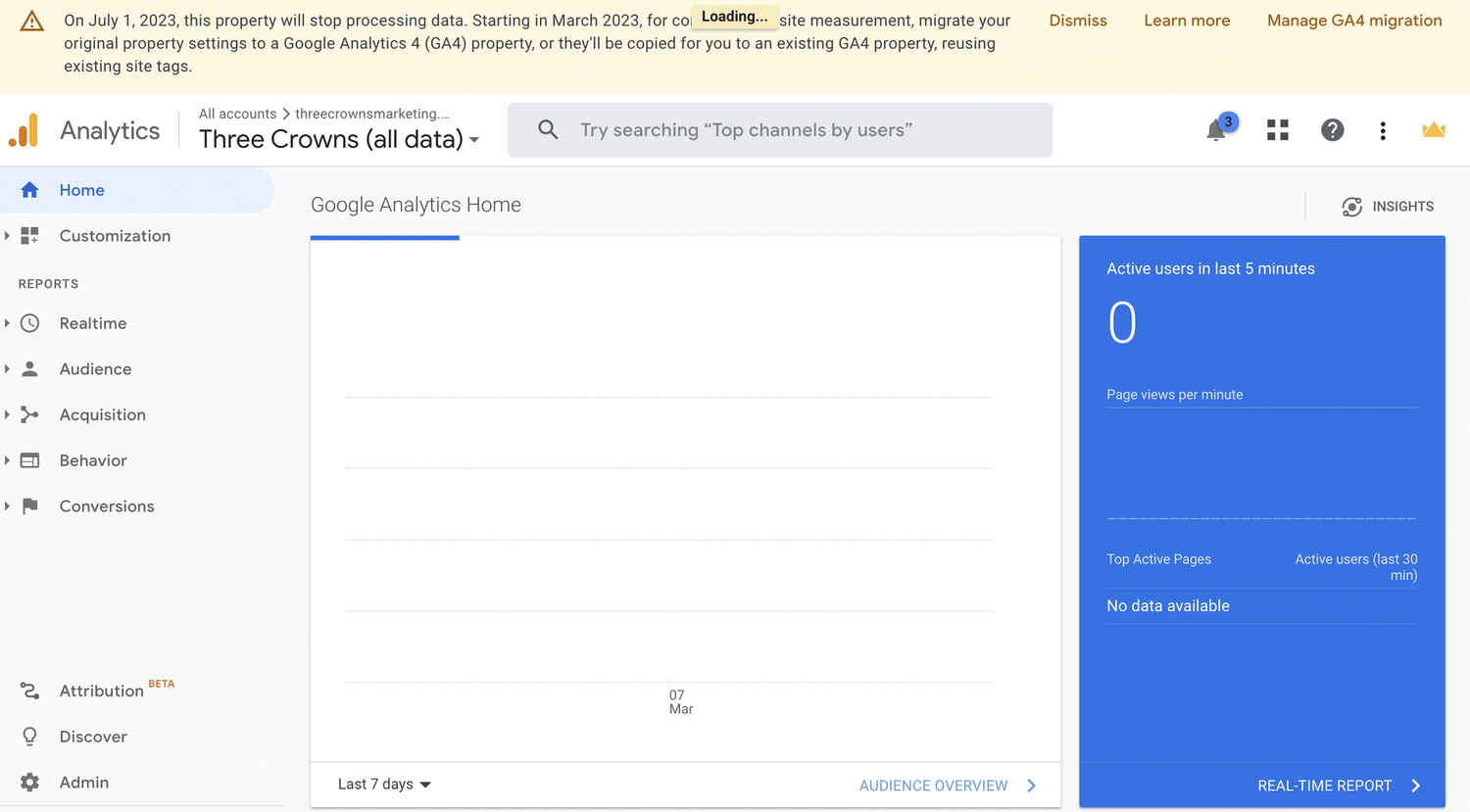 2. CLICK "ADMIN" IN THE LOWER LEFT CORNER OF THE SCREEN
3. CLICK "CREATE PROPERTY"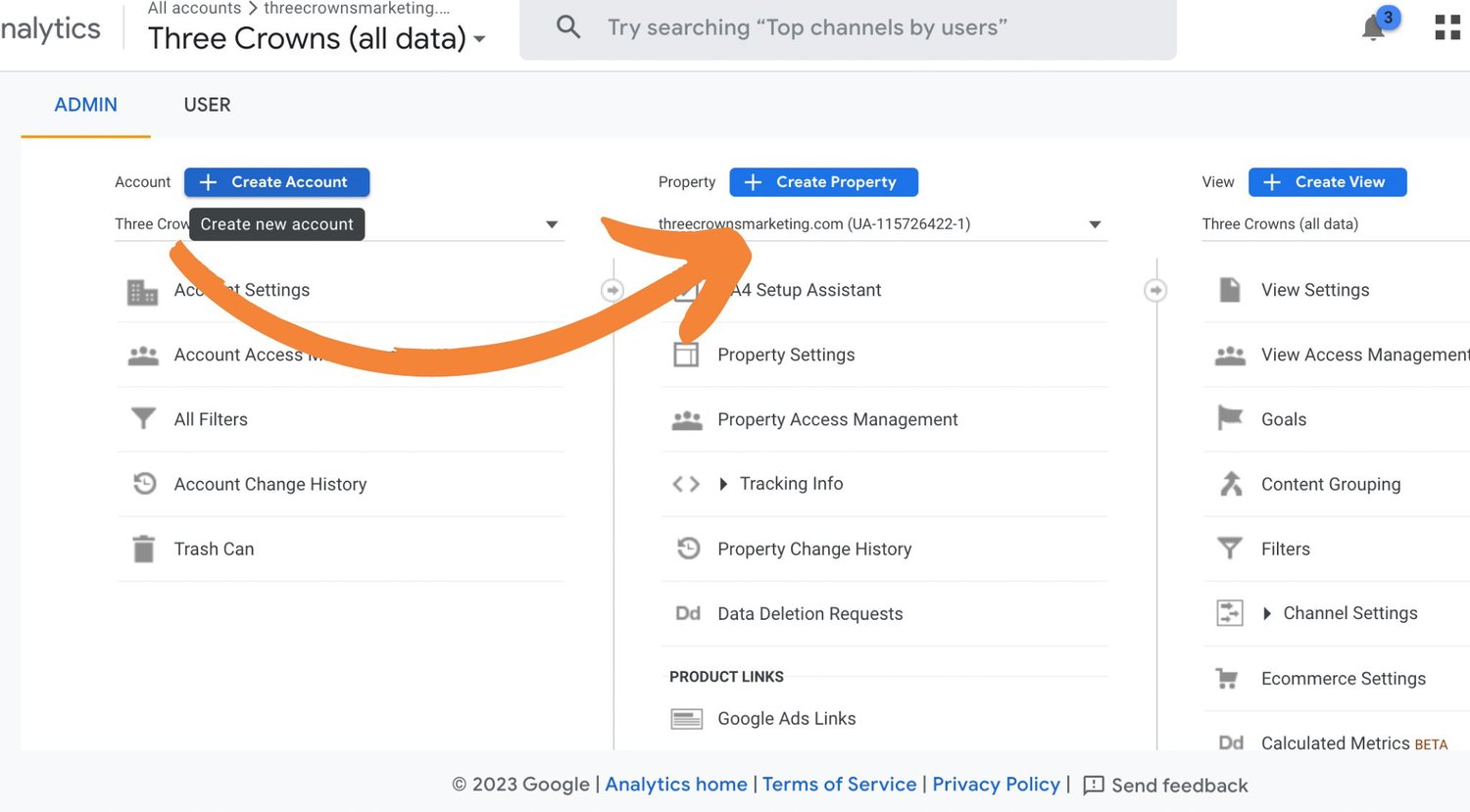 4. NAME YOUR PROPERTY
5. SET YOUR TIME ZONE
6. CLICK "NEXT"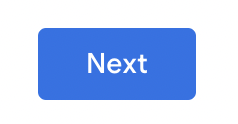 7. CHOOSE YOUR INDUSTRY CATEGORY, BUSINESS SIZE AND GOALS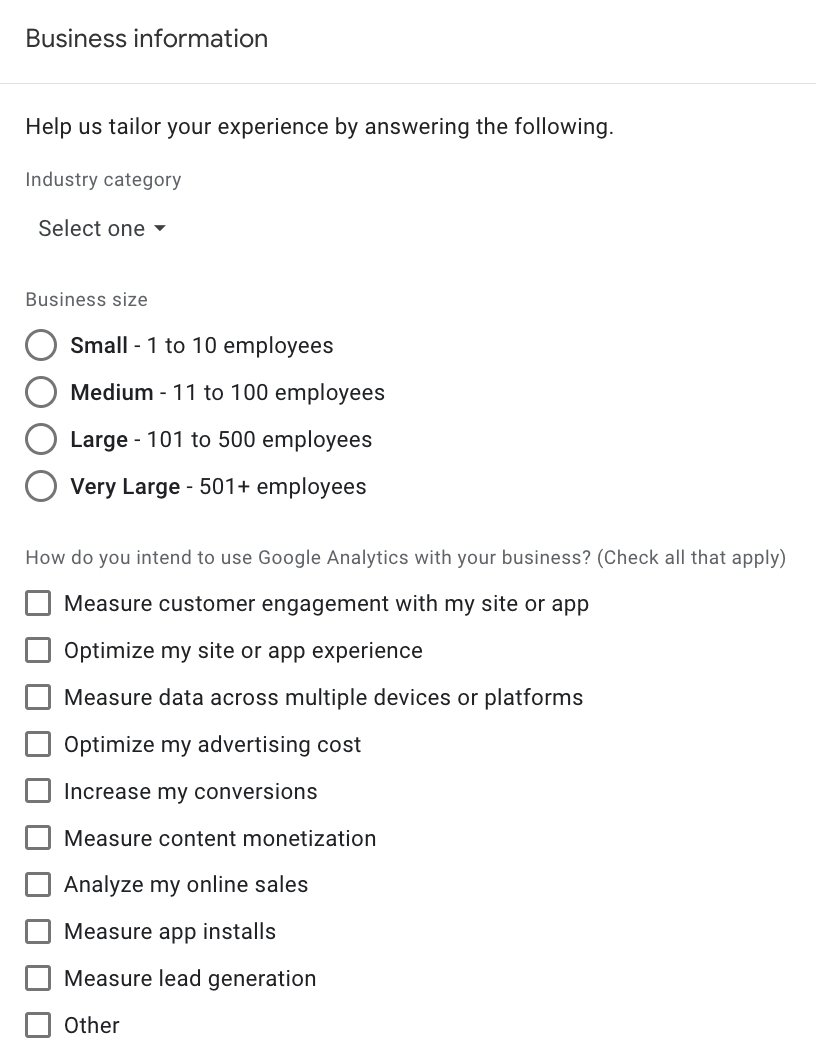 8. CLICK "CREATE"

9. CHOOSE YOUR PLATFORM
For this part, you'll want to choose "Web" for your website. The other two options are for apps – which you can certainly set up in the future – but for now, let's get your website analytics up and running.

10. ENTER YOUR WEBSITE URL AND NAME IT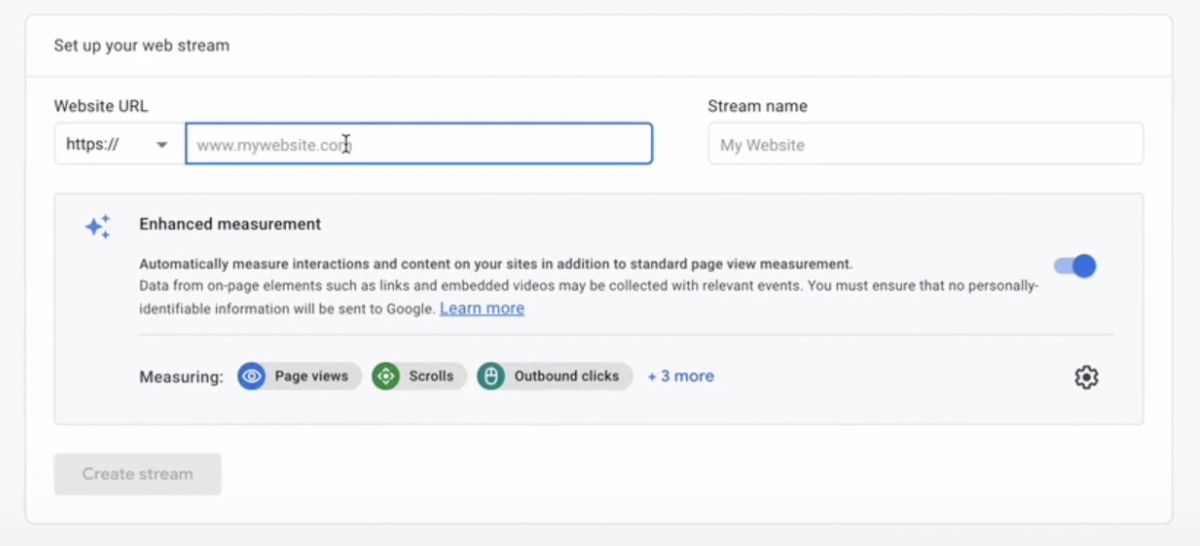 11. CLICK "CREATE STREAM"
12. SET UP YOUR TAG
Your tag will depend on what kind of website host you have (Wordpress, Squarespace, Wix, etc.). You'll need to do a quick Google search to see which tag you need for your specific site.
If you have Google Tag Manager, then it's super simple.
And that's it! You've now officially made the switch from UA to GA4. Happy data tracking!