Local searches on Google are one of the top ways consumers find services in their area. In fact, 46% of searches on Google have local intent, and 72% of people who perform a local search visit a brick-and-mortar location within five miles of their home.
In other words, you want your listing to pop in local searches. Google has introduced a new service called Google Screened that allows businesses to do just that, and we think advisors should get on board.
What is Google Screened?
Google Screened is a new verification service from Google where businesses undergo a background check in certain areas in order to earn a green checkmark next to your listing in results.
Screened is required if you want to run Local Services ads, which allow you to show up at the top of searches like "financial advisor near me."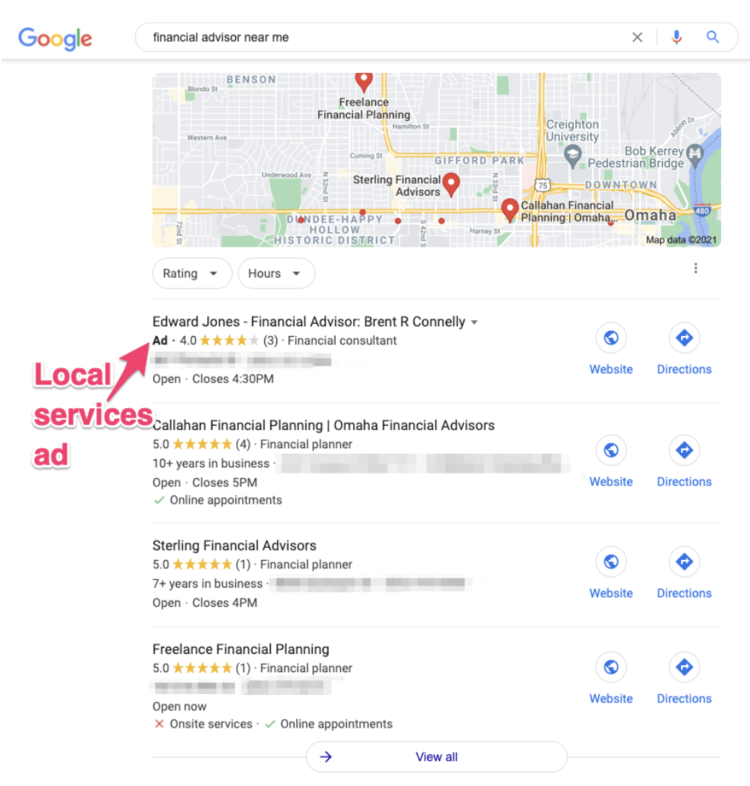 On top of that, Google Screened businesses are prioritized over non-screened businesses. If your profile has a "Screened" badge, you'll rank higher than those who don't have it.
Is Google Screened the Same Thing as Google Guaranteed?
Nope!
Google Screened should not be confused with Google Guaranteed, although it is very similar. You can remember the difference between the two by focusing on their names: Screened vs. Guaranteed.
Screened means that Google has done a background check (as well as other checks) and can verify that you are a legitimate business. This service is available to professional service providers like financial advisors, lawyers, realtors, etc. Also, it's free!
Guaranteed takes it a step further and Google actually gives a money-back guarantee on services rendered by these companies. Guaranteed is not available for financial advisors—it is for home services like plumbers, electricians and air conditioning service companies.
What is Involved in Getting Screened?
Per Google, the screening process for financial advisors includes the following:
Background check requirements:

Business check

Owner check

Professional check

Insurance requirements:

General liability insurance

License requirements:

License checks for each financial planner in the firm
In short, they will check that your firm is registered and licensed appropriately and that your business and any employees who directly serve your clients are free from criminal activity. For more information on everything included in Google's checks, visit their page "Understand the Screening and Qualification Process."
All checks are done at no cost to your business.
If you fail any part—say someone on your staff shows up with something unsavory in their background check—then your business cannot be officially "Google Screened." If it was a mistake, you can sort it out with the company that performed the background check and reapply after 30 days. If you fail again, you have to wait a year to apply again.
How to Get Started
In order to apply and find out if you qualify, you have to sign up for Local Services Ads, but you don't necessarily have to run any ads.
Want help running ads to get in front of a new audience? We do that! Reach out today.
Related: Google is Phasing Out Third-Party Cookies - What Does that Mean for Advisor Advertising?