Yes.
If you take a look at LinkedIn user conditions, they are here
The terms to check out are 8.1 and 8.2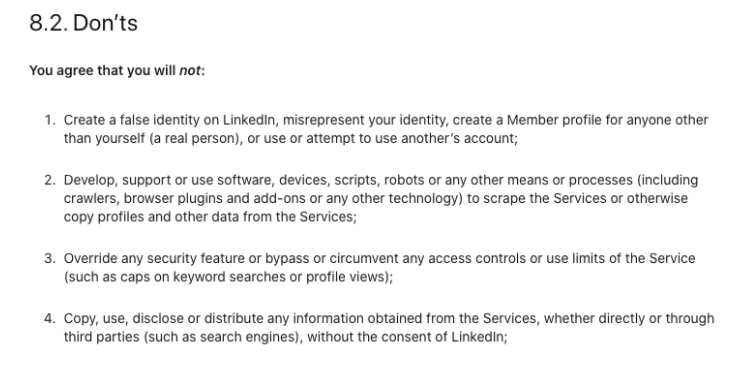 Clause 8.2.1 means you cannot use somebody else to run your Linkedin profile, for example your personal assistant, your partner or a marketing agency.
Clause 8.2.2 means you cannot use automation software for sending connection requests.
Clause 8.2.4 and clause 8.2.2 means you cannot scrape data from Linkedin and use it elsewhere. For example, spammers often scrape the data from LinkedIn and then send spam emails with it.
What happens if you get caught?
If LinkedIn catch you then they ban you .... for life.
There is no arbitration, no second chances, you lose your profile, your network and all your contacts and you have to start again.
One person I know who uses a "done for you service" said to me "the supplier never told me any of this". No shit sherlock! Have you ever seen somebody go to market and say, "buy my product, but if LinkedIn find out you will lose your Linkedin profile ..... forever."
Related: The 7 Best Tools to Digitally Transform Your Business in 2021