Written by: Ramanujan MK, Project Manager CX, CISCO, Founder, Musicloudstudio & Technology
When I set up "Musicloudstudio & technology," a startup providing music production services for various corporates & independent artists, we discovered various challenge's right from defining, to ideating, creating, and acceptance. Based on my Project management experience in IT, I was able to leverage various Agile / Waterfall frameworks as a backbone in my Music Production & people Management, in what I call as "Mugility". Mugility is a hybrid model following the footsteps of Disciplined Agile, specific to the music industry in order to have a structured approach from start to finish.
I was truly fortunate to meet Raji Sivaraman, who introduced me to Personal Agility Lighthouse Model™. Just the way the seven notes in Music are at the core of every composition, the seven personal agility principles created and described by Raji Sivaraman and Michal Raczka, founders of Agility Discoveries act as a foundation in this case. Integrating the Personal Agility Lighthouse™ Model (PALM™) to any project framework can help musicians or artists achieve their goals.
Music is one such art form, which can stimulate powerful emotional responses and is universally relatable. Having said that, as an artist when we start creating something new, the first and the foremost point is to relate to our client's needs. It is essential that we practice Emotional Agility and can gather multiple perspectives. This not only helps us in overcoming self-bias, but it can also help in broadening the horizons. While we are trying to evoke empathy through music, Cerebral Agility plays an important role. Ludwig Beethoven created masterpieces like Missa solemnis, the Ninth Symphony even after he was completely deaf by 1820's. Beethoven had heard and played music for the first three decades of his life, so he could always imagine in his mind how his compositions would sound like. With Cerebral Agility, the power of imagination is limitless.
It is always said that a song mix is never complete! Education & learning can never end, it is a continuous process. It is especially important to thoroughly understand the subject and master the essentials. Although technology is evolving rapidly, fundamentals remain the same. Education in agility means that you are putting yourself in someone else's shoes and feeling their pain points. I have come across many musicians who are brilliant in live concerts. But they find it very difficult to record in a studio environment. Recording in studio is entirely a different ball game. Being a Recording Engineer, it is very important to guide the artists & help them in overcoming the difficulties. Education Agility helps us to upskill & explore newer trends. At the same time, in every phase of the project we come across unique situations which will lead us to new learnings. Learning Agility is vital for the ongoing & future projects. This will help us change & adapt new strategies to manage the projects. Having said that, in disruptive times unlearning is also equally important. It is a constant cycle as explained in the PALHTM model – Adapt-Adopt-Adapt.
Music production is not a one man's job, this is purely a teamwork. When we work as team, we need to understand the expectations of internal team members like lyricist, arranger, singers, coordinators, sound engineers etc. & external team which includes producers, director & most importantly audience. Political Agility helps us to understand people & culture which is critical to success of any song.
"Change is the only constant." With the Invention of AI & ML, software's are developed to create music, mix & master without manual interventions. Such inventions have happened in the past as well. IBM machines replaced humans for complex mathematical calculations. But we adopted to the change by learning Fortran. Today, music is beyond seven notes. It is very essential for musicians to evolve with disruptive technology and embrace Change Agility. At the same time, failure is imperative for any musician. At every phase there are rejections. To overcome failures and sustain the disruptions, Outcome Agility plays significant role. Outcome Agility sits on the top of all the agility principles. Proper retrospection provides feedback to all the agilities & help us achieve excellence.
Often, there is misconception that Agile Framework is restricted only to IT or Software. In my 14+ years of IT experience, I can confidently say that Music projects are no different from IT projects or any software product development. Drawing parallel to Design thinking framework, I have re-created Music Thinking framework which includes "Empathize-Define-Ideate-Create-Feedback" model. This model is applied to every phase: Creating Lyrics, Melody, Arrangements, Vocals & Music recording and finally Mixing, Mastering.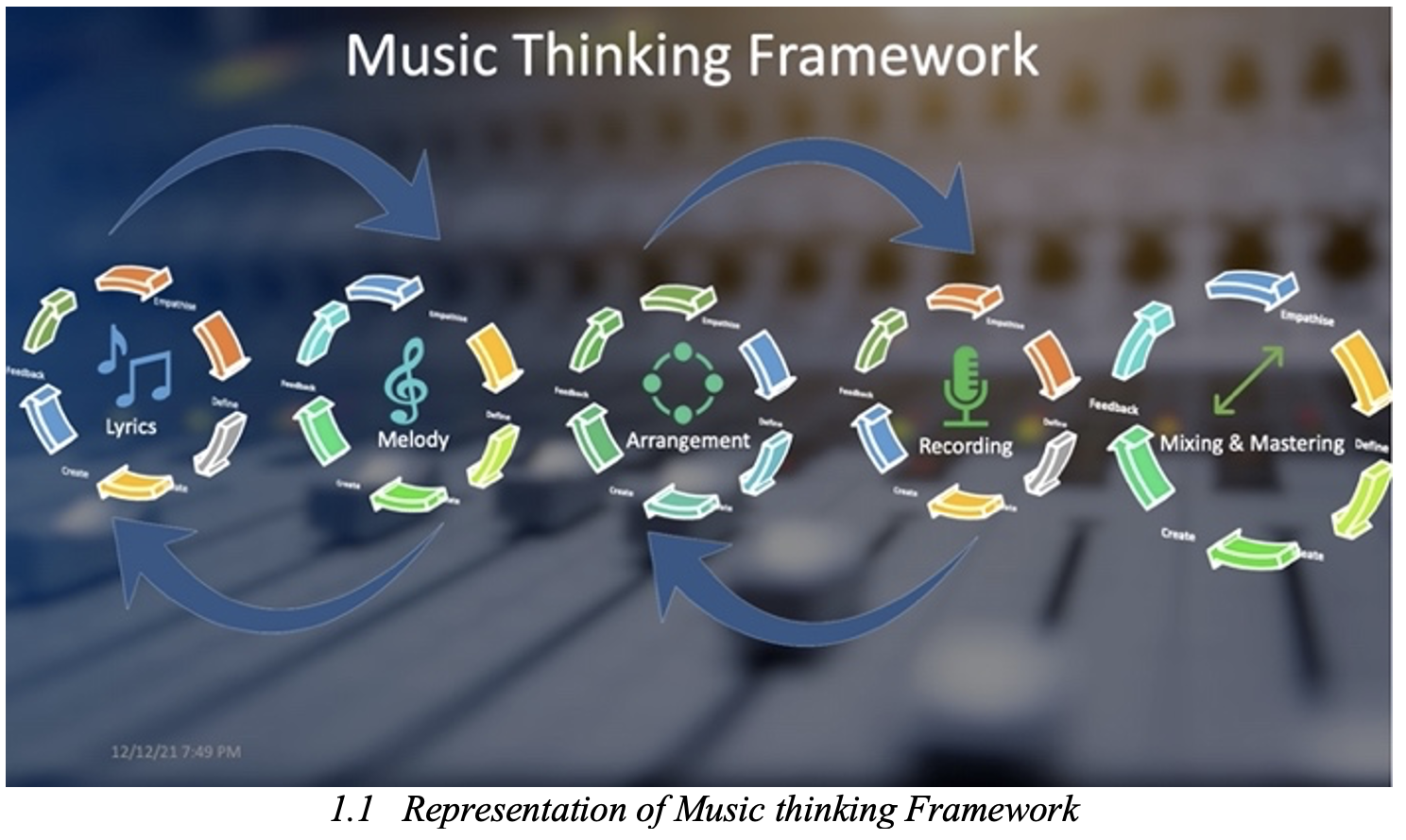 In the Music thinking framework, we also implement quick sprints to deliver a minimum viable product and continually adjust it to suit client needs, as opposed to the waterfall process. This approach has significantly helped us to reduce time and cost. I firmly believe applying 8 modified agile principles - Audience connect, Adoption to technology, Frequent delivery, Continuous improvement, Simplicity & Leadership aligned with Personal Agility LighthouseTM model is the way forward to manage music production.
Related: Developing Agile Competencies To Assist You/SAAS Achieve Greater Results
References:
Project Management for Musicians by Jonathan Feist.
Applying Agile Development Principles in Music Production by Dr Scott R. Furtwengler, PhD
Making Projects to Sing: A Musical Perspective of Project Management by Raji Sivaraman, Chris Wilson
Discoveries Through Personal Agility by Raji Sivaraman & Michal Raczaka