Written by: Gary Ashton
A debate is opening in the Wall Street analyst community if it is now the time to buy what they call "activity stocks" versus "stay-at-home stocks?" Analysts broadly define activity stocks as belonging to companies in the travel, entertainment, and hospitality sectors. In contrast, stay-at-home stocks are related to the technology sector, like Netflix (NASDAQ: NFLX) and Amazon (NASDAQ: AMZN).
The financial media is widely reporting that some significant hedge funds are rotating away from tech and into sectors that have been beaten down by the COVID-19 crisis. There is no doubt that the tech sector has done well in 2020 as the virus forces people to remain at home watching films and shopping online - while other sectors such as airlines suffer miserably with passenger volumes down 80-90%.
The chart below shows that the US tech sector is up nearly 34% in 2020 - based on the Technology Select Sector SPDR Fund (AMEX: XLK). In contrast, other sectors such as financial services - based on the Financial Select Sector SPDR Fund (AMEX: XLF) - are down more than 7% this year. Investors are divided on whether tech stocks are overvalued while banks are hurting because of low interest rates and rising loan loss provisions.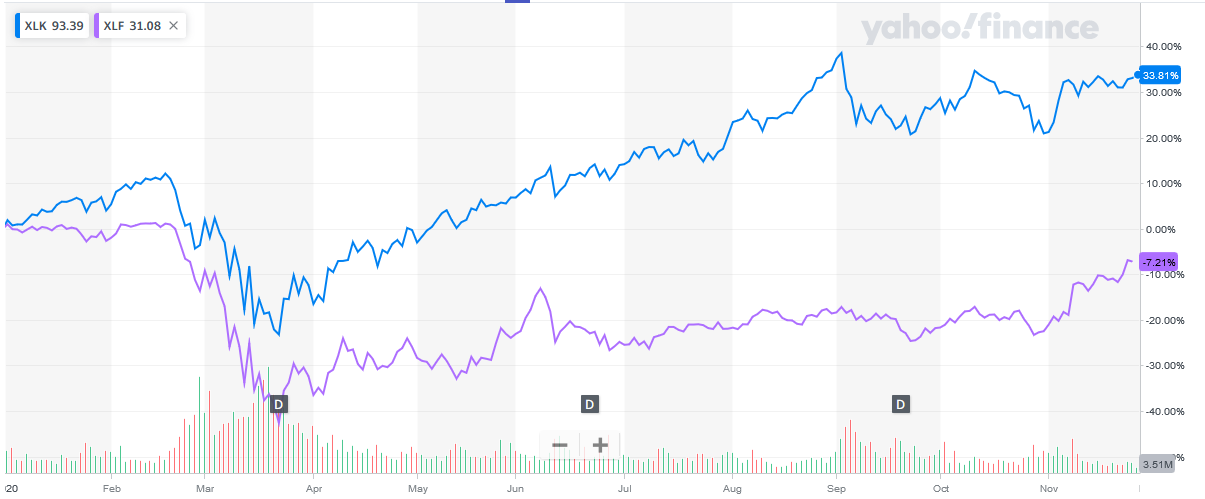 Is a Vaccine a Game Changer?
Fueling the rotation out of tech are expectations that the world is on the brink of discovering a vaccine that could work to get COVID-19 under control – allowing people to get out and start doing things again. Press reports currently suggest three possible vaccine candidates with an efficacy rate greater than 90% - making "herd immunity" a real possibility depending on widespread uptake. Progress on a cure is putting some optimism into the travel, entertainment, and hospitality sectors.
A more challenging question to answer, however, is if life will go back to "normal." Few can agree if enough people will rush to Disney Land to warrant investment into travel and leisure stocks in 2021. Some suggest it could be a long road back to get people traveling the same way they did before the pandemic. For example, airlines make a lot of money on business travel, and it is too early to know if this form of meeting will bounce back as before or if more cost-effective online conferences are here to stay.
An equally important question is whether it is time to pull the plug on tech and invest in something else in 2021. Yes, tech has had a good run in 2020, but that does not automatically mean that investors should bail on these names if pandemic pressure ease. The path out of this crisis remains unclear, and some consumer behavior, such as an even more significant amount of online shopping, may be here to stay even after COVID-19.
Related: Will Energy Stocks Continue Their Upward Spiral in December?
Related: What's Pushing Tesla Stock to Record Highs?
DISCLOSURE: The views and opinions expressed in this article are those of the contributor, and do not represent the views of Advisorpedia. Readers should not consider statements made by the contributor as formal recommendations and should consult their financial advisor before making any investment decisions. To read our full disclosure, please click here.